Beth Dooley's Apple & Squash Salad with Maple Hazelnut Vinaigrette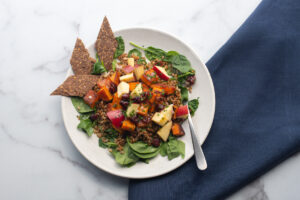 Print
Beth Dooley's Apple & Squash Salad with Maple Hazelnut Vinaigrette
Yield 4-6 servings
This recipe features locally made hazelnut flour and oil, along with squash, apples, and rye berries — a hearty, vegetarian meal bursting with the flavors of autumn. 
This salad can be made a day ahead and refrigerated until ready to serve. The tart, dried cranberries add pop of color and flavor.
Ingredients
1 small winter squash, about 1-1 1 ½ pounds, peeled, seeded, cut in to 1-inch pieces
¼ cup hazelnut oil
Coarse salt
2 Tablespoons apple cider vinegar
2 Tablespoons maple syrup
2 teaspoons Dijon mustard
2 teaspoons chopped shallots
4 green onions, trimmed and sliced into ⅛-inch pieces
1 medium tart apple, cored and cut into ½ dice
¼ cup dried cranberries
Salt and freshly ground black pepper to taste.
4 to 6 ounces torn spinach or mixed salad greens
½ cup toasted hazelnuts
3 cups cooked, drained rye berries, hulled barley, or faro, optional*
Instructions
Preheat oven to 400°. Scatter the squash on a sheet pan and drizzle with hazelnut oil then sprinkle with salt and pepper. Roast the squash for 20 to 25 minutes, turning once, until tender and nicely browned. Remove from the oven and set aside.
In a small bowl, whisk together the vinegar, maple syrup, mustard, and shallots. Slowly whisk in the hazelnut oil, keep whisking until fully blended.
Add the onions, apple, cranberries, and roasted squash into a large salad bowl then toss in enough dressing until the ingredients are nicely coated.
Arrange the greens on a large platter or individual plates, then pile the squash mixture over the greens and top with the toasted hazelnuts.
Notes:
*To toast hazelnuts spread on a baking sheet and roast in a 350° oven until the peels begin to slightly crack and the nuts smell toasty, about 5 minutes.
Cooked whole grains turn this simple salad into a lovely vegan/vegetarian option. You'll need about 1-1½ cups whole grains. Toss the grain in a pot and add enough water to cover by four inches. Set over high heat and bring to a boil, reduce the heat and simmer until tender, about 25-45 minutes. Drain and set aside until ready to use.
Notes
Beth Dooley is a James Beard award winning cookbook author, columnist, and food writer. Her cookbooks feature seasonal flavors and local, sustainably sourced ingredients.
Be sure to check out Beth Dooley's Hazelnut Parmesan Crisps to serve alongside.