Beth Dooley's Hazelnut Parmesan Crisps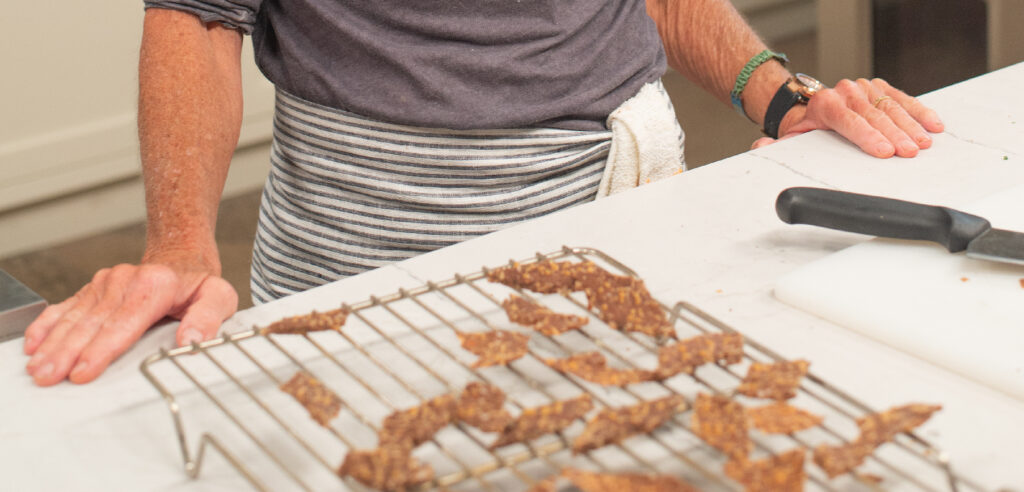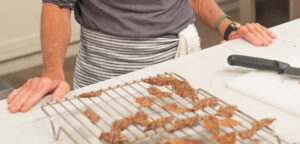 Print
Beth Dooley's Hazelnut Parmesan Crisps
Yield 48 crackers
These crisp and toothy crackers are made with hazelnut flour, and make a terrific companion to the Winter Squash Salad, soups, stews, and are a wonderful gluten-free addition to a cheese tray. 
Ingredients
1 cup hazelnut flour
½ cup grated Parmesan cheese
2 egg whites
2 teaspoons chopped fresh thyme
Generous pinch of coarse salt
Generous pinch of red pepper flakes
Instructions
Preheat oven to 275°. Lightly grease a sheet pan or cover with parchment paper.
In a large bowl, mix all the ingredients together to form a stiff dough. Turn the dough out onto the prepared baking sheet (it will be very crumbly). Using a rolling pin and your hands, work the dough into a thin rectangle that covers the baking sheet.
Using a pizza cutter, bench scraper, or sharp knife, cut the dough into 48 rectangles. Bake until the crackers are crisp, and the cheese is melted and started to darken, about 35-45 minutes. Remove the sheet pan from the oven. Allow the crackers to cool on the sheet pan and then remove to continue cooling on a wire rack.
Notes
Store in an airtight container for up to one week.