Dale Woodbeck's Legacy at Lakewinds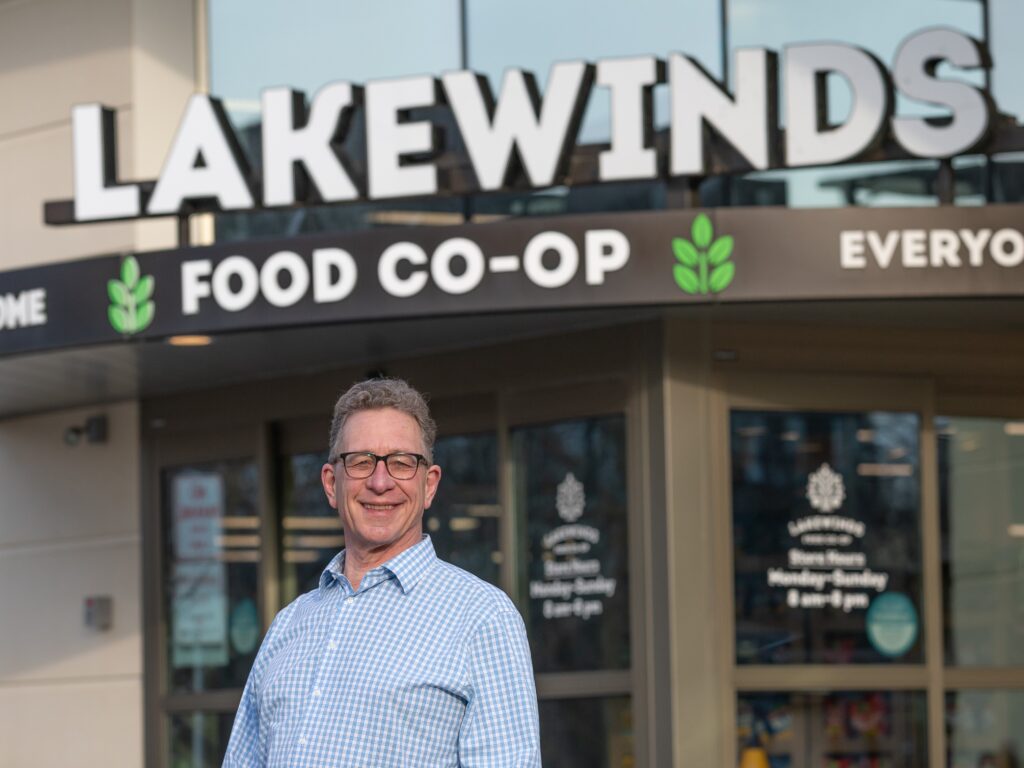 Dale Woodbeck is retiring from the co-op after 12 years as Lakewind's general manager. Here's his final letter to owners, which also appears in the summer issue of ReFresh, along with reflections from those he's worked with.
Join us as we celebrate Dale's legacy at Lakewinds!
Appreciations for Dale
---
"Dale is going to be so missed. He's the heart and soul of all three of the sister stores of this co-op. He pulls us all together. He's taught us that our wealth of knowledge, our wealth of people, our wealth of kindness is more than any big corporation could ever do for anybody. I'm going to miss his happiness, big wide smiles and his howdies to everybody. What I really want to say to Dale is: On your new adventure, make it as wonderful and awesome as you've always made it [here for us]. Have the best journey you've ever had. We love ya."
~ Bernadette LaBarre, Chanhassen cashier
---
"Dale and I began our work at the co-op around the same time, and I am so thankful for having had a front row seat to watch his vison, dedication, and passion for our co-op roll out and manifest in such a tremendous positive impact! Dale's contribution to our culture will carry forward and ensure our continued success. Thank you, Dale, for everything you've done for this community!"
~ Greg Dick, operations manager
---

Dale's Letter in the Summer Newsletter
Hi, Everyone!
This is my final letter as your general manager after my retirement on June 6. I'm now part of a team assisting our board of directors and the new general manager in this important transition for the co-op.
I am grateful for having had the opportunity to lead our co-op. In hindsight, the skills and abilities that I developed through my career, combined with my set of values, all prepared me for my role at Lakewinds. Together – staff, members, and suppliers – we have built a unique community business that is focused on food.
We've built a culture that works for staff. Over the years, I've met and worked with hundreds of staff members. They generally arrive at Lakewinds with the desire to foster community and positive change in how food is produced and delivered. My job has been to support them by building an experienced, dedicated management group of up to 60 people and implementing programs and systems that facilitate good decision-making in our stores. I feel successful when staff feel like they've contributed to shoppers' positive experiences while helping build a solid local food system.
We continue to build a base of owners (more than 20,000 households) who support the work of the co-op. Every dollar you spend at Lakewinds supports our vision of being a key influencer in the local food system. I am proud of our ability to provide you with an excellent shopping experience. Your willingness to spend your grocery dollars at Lakewinds allows us to have impact in many ways, including to:
Provide staff with good wages, benefits, and gain share.
Continue the Lakewinds Organic Field Fund (LOFF), which has provided over $675,000 in direct infrastructure grants to more than 80 local farms in the past 11 years.
Use Community Giving Round Up funds to support nonprofit organizations that work on local food development and support, with more than $1,000,000 donated over the past six years.
Provide seeds and plants to community gardens and school gardens, which in turn provide produce to feed people and education about growing food.
Partner with a variety of Twin Cities food organizations to strategically plan for growing a local food economy.
I have been able to work with several organizations as part my role at Lakewinds, serving on boards of directors and steering committees of organizations working with us as kindred spirits. We have a great reputation in the local food community because of this work, including with:
Sustainable Farming Association of Minnesota (SFA)
SFA's Crow River chapter board and the MN Garlic Festival
Minnesota Institute for Sustainable Agriculture (at the University of Minnesota)
Mill City Farmers Market (MCFM)
Division of Indian Work
Renewing the Countryside's Access to Land project (and farmland navigators)
Sharing Our Roots (Northfield, MN)
Local Emergency Assistance Farmer Fund, with these partners:

The Good Acre
Hmong American Partnership (HAP)
Latino Economic Development Center
The Food Group
MCFM

We support local farms, ranches, and food makers by providing access to our stores and helping create markets. In 2021, Lakewinds sold $16 million of local food. One of the great joys of my work has been visiting many of our farmers and ranchers. Putting faces to names and having one-on-one conversations helps cement our commitments to one another.
I will miss so many aspects of my work at Lakewinds, particularly the conversations with staff and customers. I will, however, continue to serve several of the organizations above. I will continue to shop at Lakewinds and take pride in knowing that I had a big impact on a really great business. I leave my position knowing that we are strong culturally and strong financially. It's a good time to transition to the next leader, who has strong momentum as they lead Lakewinds to the next level.
Thank you, friends, for placing your trust in me as the steward of our co-op. Thank you for your support and appreciation. Thank you most of all for your kindness.
~ Dale Woodbeck
---

Appreciations for Dale
"Dale's collaborative style and focus on team leadership has served Lakewinds well. When he was hired, he told us to just keep doing what we were doing as he wanted to watch and learn about the business for a few months. In our management meetings he rarely took center stage, but listened to our discussions and took notes. Dale listened to his team and gathered information to analyze before making decisions. This management style empowered employees and has been key to Lakewinds success."
~ John Case, finance administrator
---
"Dale was a great general manager! He knew everyone's name and would always take the time to say hi or chat if there was time. I always enjoyed working with him either at members' dinners when the deli used to put together all the food or just helping him set up the screen for when we did live presentations for gain sharing. One always felt like you were equal to him and never beneath him. Dale will truly be missed. He definitely has big shoes to fill."
~ Aaron Johnson, MOD Supervisor at our Richfield store
---
"Since joining the board, I see just how impactful Dale has been for Lakewinds. He is passionate about our people and the values of Lakewinds. This passion allows him to drive success for Lakewinds and our community through Maker to Market, LOFF, round-ups, and his personal volunteer work. Although I will miss him as our leader, the culture and success he brought will continue to thrive."
~ Ryan Reichenbach, Lakewinds board president
---
"Whether it was working on soil health through the MN Institute for Sustainable Agriculture, advocating for emerging farmers including those who are Black, Indigenous or People of Color, or supporting farmers through innovative programs like LEAFF, Dale has always demonstrated cooperative values. And he put Lakewinds principals into action by advancing community giving efforts like the Roundup Program. Not to mention that the Lakewinds stores are wonderful places to shop, a clear indication of his general manager talents. He will be missed!"
~ Theresa Keaveny, former executive director at SFA
---
"Dale has had such an incredible impact on our co-op and staff! Personally, I've been inspired by his strategic leadership, love of sustainable agriculture, and passion for our local community. Thank you Dale for your commitment and expertise, we have all benefited from it greatly! We wish you the very best!"
~ Jena Olson, senior communications manager
---

"My original memory of interacting with Dale, which is from many years ago, was that he had recently sold a business in Lester Prairie, and was keen to start applying his talents with a sustainability organization.  The Sustainable Farming Association was searching for a new Executive Director, and I met with Dale in St. Bonifacius to discuss the possibilities.  We had some excellent applicants, including Dale, and we hired someone else.  But this led, directly or indirectly, to him landing the Lakewinds position.  It wasn't long until he began volunteering with SFA, working with Minnesota Garlic Festival, joining the Crow River Chapter Board, and serving on the statewide board of directors.
Now, he is the SFA Board Vice-President, a position that traditionally leads to becoming President, to which he will likely be elected when our current President completes her term in 2023.
So, things come around and happen for a reason. It's been to the advantage of so many people that we didn't hire him those many years ago, that he instead took the position at Lakewinds, and now he's circling back in a leadership position with SFA.  And, on a personal level, I am so happy to say that I have gained a dear friend in the process."
~ Jerry Ford, network coordinator at SFA
---
"It's hard to overstate the positive impact Dale has had on Minnesota's local food economy. Under his leadership, Lakewinds Co-op has grown into three gleaming stores that showcase nutritious local foods while creating a pleasant and community focused shopping experience. Lakewinds has also helped many farmers and nonprofits through its round-up program, its Organic Field Fund and by giving shelf space to local food entrepreneurs. As a SFA supporter and board member, Dale has given significantly both financially and through untold hours of volunteer time to help SFA achieve a strategic vision, promote farmer education events and conferences and help launch and sustain Minnesota Garlic Festival. Quite simply, SFA would not be making our current impact without Dale's involvement. To top it all off, Dale is a pretty swell guy who I am proud to count as a friend.
Here's a story that, to me, epitomizes Dale's character. A friend of mine, Vanan Murugesan, was working for Pillsbury United Communities to develop a grocery store in Minneapolis (the current North Market). I connected the two in hopes that Dale might talk to Vanan about his experiences in this highly competitive world. Well, Vanan reported back to me that he met with Dale and that the knowledge shared gave Vanan not only enhanced expertise but the confidence that he could indeed get this store off the ground. As the store opened it accepted donations for engraved bricks to mark the occasion; when I made my first visit and saw the wall whose name was on a brick but Dale Woodbeck. Not only did he take time out of his busy schedule to meet with my friend, he made a donation in support of the store. I will never forget that."
~ Jason Walker, communications associate at SFA
---
"The Division of Indian Work is incredibly grateful for Dale and his commitment to the Native American community.  He is a member of our Board of Directors and serves as our treasurer. His expertise and guidance ensure that we can continue to serve our people in our four program areas. Additionally, Dale helped foster a strong partnership with Lakewinds that continues to this day. Food security is of great concern in our community, and we very much appreciate working together on this issue.
Dale, you are an amazing leader and a friend, and we look forward to continuing our journey with you as you move on to the next chapter in your life."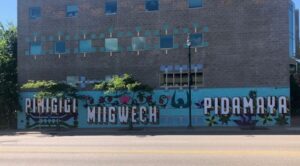 (Thank you in Ho Chunk, Anishinaabe, and Dakota!)
~ Louise Matson, executive director for Division of Indian Work
---
Learn about some of the projects Dale launched, including the Lakewinds Organic Field Fund and the Community Giving Round Up at the register program.