Celebrate Squash with Easy, Simple Meal Ideas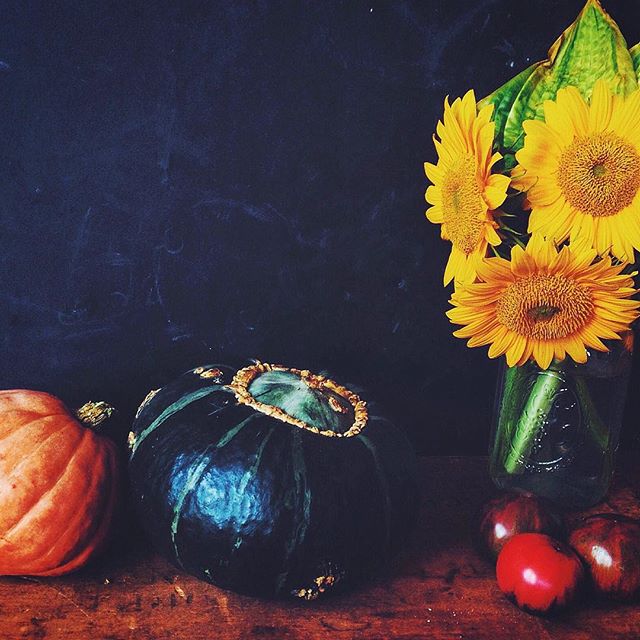 Big squash, little squash, blue-green squash, striped squash. No, it's not a Dr. Seuss book – we're in the co-op produce department! When it comes to local, late-season produce, squash is the perfect comfort food for wintry days and is incredibly versatile.
Local real-food blogger Amanda Paa, herself a lover of squash, recently took over our Instagram with a "squash of the week" project. Here's a recap of her favorite fall squash recipes.
Delicata Squash
Appearance: Oblong with yellow and green stripes
Flavors: Sweet potato/hazelnut
Suggested Recipe: Clean out the seeds and roast as circles or half-moons with olive oil and rosemary for 15-20 minutes. The skins are edible, so you can leave those on! Serve as a dinner salad on a bed of mixed greens with slices of red onion, sunflower seeds, slices of apple, a poached egg and cheese if desired.
Kabota Squash
Appearance: Round in shape and color of rich orange with lighter orange vertical lines and a little bit of green around the stem
Flavors: Sweet, nutty with a dense texture
Suggested Recipe: Roast cubed kabocha (can leave skin on) and halved brussels sprouts on separate pans with olive oil and salt, at 400 degrees. Brussels will take about 10 minutes, squash until fork tender, about 25 minutes. Mix together 2 tablespoons orange juice and 1 ½ tablespoons olive oil. Combine veggies in a bowl, then toss with the orange juice mixture. Add salt & pepper to taste, then top with dried cranberries and zest of one orange.
Spaghetti Squash
Appearance: Yellow, oblong with a whitish stem
Flavors: Mild, tender, chewy, with flesh that pulls apart in strands so is a great substitute for pasta
Suggested Recipe: Cut squash vertically and scoop out seeds. Rub inside with olive oil and salt. Roast at 375 degrees for 12 minutes cut-side down and turn it over so the cut side faces up for another 15-20 minutes. Use a fork to remove squash strands, then place them in a towel and squeeze some of the water out. While the squash is roasting, cook 2 slices of bacon in skillet. When crispy, remove bacon and drain the bacon grease except for 1 tablespoon. Add 2 tablespoons minced onion and 1 clove of minced garlic to the skillet and heat over medium for 3 minutes. Stir in 4 small leaves of kale, cut into skinny threads, and 1 tablespoon water. Cook 4-5 minutes until wilted. Add in the squash and gently stir. Crumble bacon and add, along with 1 teaspoon red wine vinegar, ¼ teaspoon black pepper. Make a well in the middle of the hash and crack one egg into it. Cook on medium until the yolk is set to your preference and serve.
Buttercup Squash
Appearance: Dark green with pale green stripes and a "bubble" on the bottom that sticks out in a circular ridge
Flavors: Mildly sweet, creamy
Suggested Recipe: Deseed, then cut squash into ½-inch wedges and brush with olive oil and a mix of: panko breadcrumbs, garlic powder, salt, and minced fresh parsley. Pat mixture onto the squash to coat and bake at 375 degrees for 25 minutes.
The cold, snowy weather is the perfect time to enjoy these hearty, delicious, healthy squash meals. For more ideas on what to make with produce from the co-op, visit Lakewinds' recipes on our website.