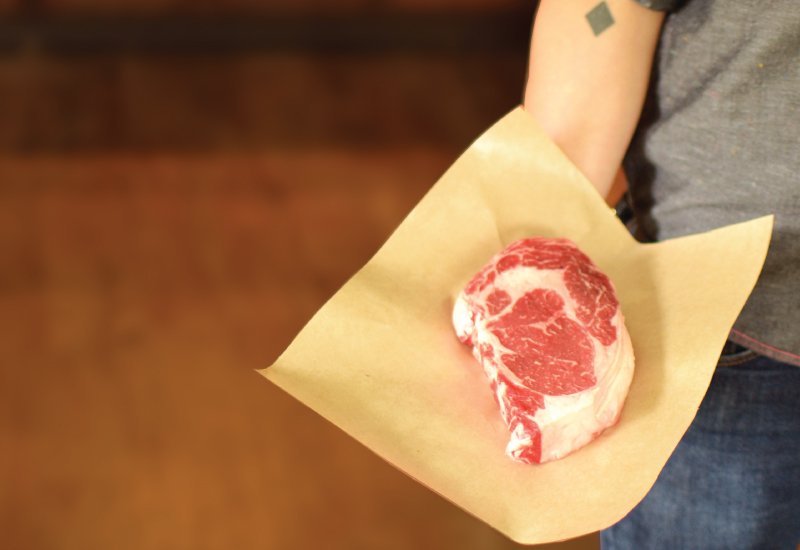 What goes into the products you find in the Lakewinds Meat Department? Great talent, ethical practices, close partnerships, and a passion for quality. We source and handle all our products according to uncompromising standards, so you can trust every cut is safe, flavorful and humanely raised. See what makes Lakewinds meat so good.
Sourcing
When looking for new partners, Lakewinds Meat and Seafood Buying Manager Ben Fern goes to the source. He tours each operation to see where the animals live, graze and roam, learns what they eat, and observes the interaction between the farmer and animals. As a matter of ethics and quality, we only buy from partners who raise their animals humanely. A farm that looks great on paper doesn't always hold up under inspection. But we know good farmers when we meet them.
Distribution
We use "Cold Chain Distribution" to ensure meat is maintained at a safe temperature from butchering to processing to delivery. While it's rare, our managers do occasionally turn away a shipment that fails the cold test. Every day our meat cases are "groomed" and dates and quality are checked. Often the meat department shares surplus product with our deli, offering the highest quality product for soups, hot bar or meals to go — a smart way to minimize waste.
Single-sourced animals
A pound of conventionally processed ground beef may come from between 20 to 100 different steers. But at Lakewinds, one package contains beef from only one animal. The ribeye, sirloin, soup bones and short ribs in the case come from the same animal as the ground beef next to it. Our butchers keep a log of every cut of meat in the department: Day of arrival, farm, animal, cut type and day it was ground or processed is logged. We embraced this method long before the USDA made it a requirement this year.
Our Butchers
What drives a person to work in the butcher shop? At Lakewinds, it's passion – for good food, good practices, and providing the best experience possible. All our butchers go through an apprenticeship program, working under a veteran butcher to get to know each steak, rib and fish filet. It's a rigorous process, starting with proper handling and wrapping, moving to sausage-making and prepping recipes, with the final all-important step of cutting meat.
As Ben Fern says, "There has to be talent behind the counter. There has to be trust between the manager, employee and customer. That's how we can source and sell the very best, because we hire and train the best butchers in town."
Learn more about the grass-grazed, local meat at Lakewinds.