5 Solar Power Facts at the Co-op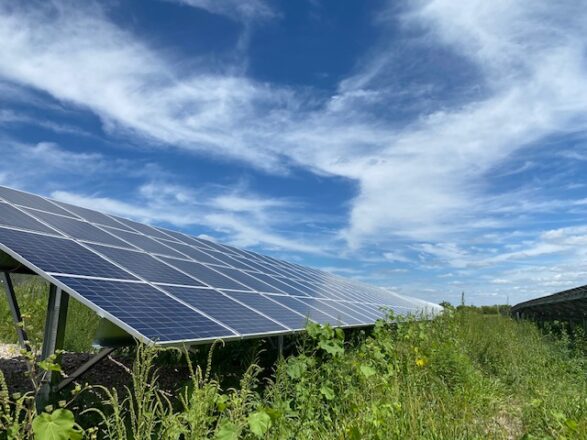 At the Erin solar array, one of the first things you notice is the sound. You hear birds chirping, the murmur of insects buzzing, and the occasional semi passing by on a nearby road. And you can't help but be struck by the landscape as you see 3,000 solar panels soaking in the sun, generating clean energy.
Lakewinds' Chanhassen store supports this solar garden through a subscription with Nokomis Energy, which built the solar garden.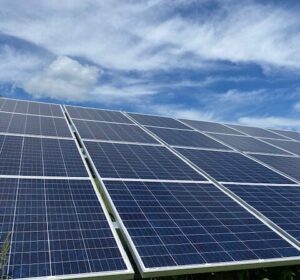 Here are five benefits of this solar array partnership.
1. Replaces power that pollutes. Solar power is key because it's a source of renewable energy. But it also replaces power that is generated by burning coal or other pollutants. Using the solar garden offsets about 70 metric tons of carbon dioxide each month. The solar panels in this array are bifacial, so they generate power both from the side facing the sun and the side facing down, collecting reflections off the ground and the snow in winter.
2. Saves on energy costs. Solar is not only better for the environment, it's better for the budget. Each year, our solar power subscription saves the co-op more than $11,700 on our energy bill. Over the 25-year commitment, the solar garden is expected to save Lakewinds more than $265,000.
3. Provides steady income for farmers. It's not news that local farmers are struggling. By having solar arrays built on lower-quality farmland, farmers can benefit from a guaranteed, steady income over time. Most leases are for 10, 15, 20, or 25 years.
"We often plan projects on unproductive land, such as farmland with low crop yields for farmers, thereby turning it into a valuable piece of property," says Julian White, partner at Nokomis Energy.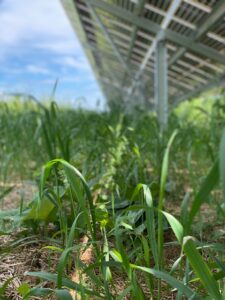 4. Creates a space for pollinators. Around and under the solar panels, grasses and weeds abound. The Erin solar garden was relatively new when we visited. But over the next couple of years, the land will be restored to native prairie grasses and flowers, including Black-eyed Susans and Wild Lupines, providing a habitat for crucial pollinators.
5. Benefits the environment. Native grasses' deep roots help control storm water and flooding during wet times of year. Native plants provide nesting places and food for birds. Small wildlife that can get through the fencing have places to live and in turn provide food for raptors. And because no conventional crops are being grown, it's a pesticide- and herbicide-free environment.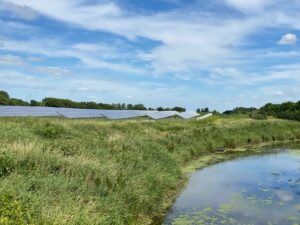 "Our focus is on providing delicious, locally grown, sustainable food. We also make decisions with environmental impact and care for community in mind," says Dale Woodbeck, Lakewinds general manager. "This solar garden helps us on both fronts, allowing us to support sustainable energy, which is better for the environment and our community, while saving money for the financial stability of the co-op."
Lakewinds is actively looking for opportunities to expand our support for solar. Current rules require that solar gardens be located in a county adjacent to the location being powered. Chanhassen is in Carver County, which is adjacent to Sibley County, where the array is located. We're actively searching for gardens that can serve our other stores, but there are some challenges, particularly around the cost of land closer to Hennepin County.
"The higher the land's cost, the harder it is for us to deliver savings to subscribers. As you get closer to the metro area, land values may exceed the project's budget," says White. "Permitting is another factor. Many communities have ordinances in place regarding solar gardens. [O]ne of our core values is ensuring gardens fit the communities they serve."
At Lakewinds, we're finding that solar gardens are a good fit for our goals, and the decisions we make with an eye to sustainability and the environment.
Learn about other ways we affirm our environmental commitment.