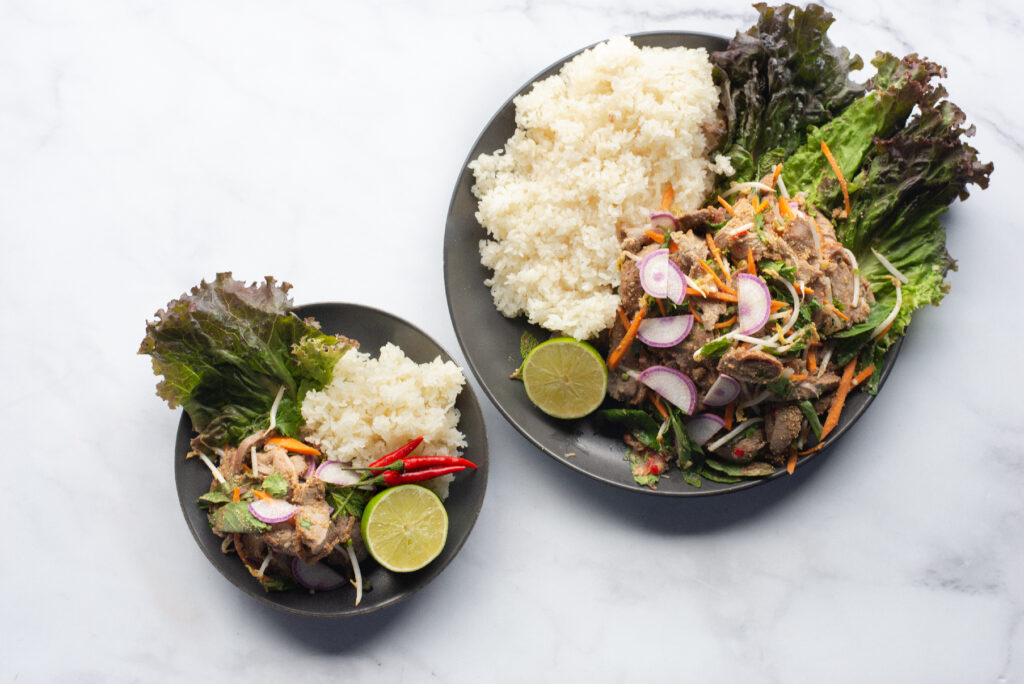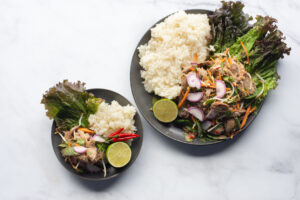 Print
Yia Vang's Duck Laab
Yield 4-6 servings
This wildly flavorful Laotian dish is a knock-out. Bold raw aromatics like lemongrass and cilantro are offset by earthy fish sauce and spicy chilies, grounded with a satisfying umami curtesy of the duck. Serve as appetizer, or as a family style entree.
Ingredients
2 duck breasts, skin on
4-5 tablespoons salt
1 clove garlic
3 tablespoons chopped lemongrass
2 tablespoons chopped shallots
3-4 Thai chilies, chopped
3 tablespoons fish sauce
3 limes
¼ cup toasted rice flour
10-12 mint leaves
10-12 Thai basil leaves
1/3 cup finely chopped scallion
1/3 cup chopped cilantro
1/3 cup carrot matchsticks
1/3 cup bean sprouts
10-12 leaves of butter lettuce
Instructions
Score the skin of the duck breast. Using a sharp knife, carefully make several shallow cuts, just deep enough to expose the flesh of the duck. Salt liberally, working grains into the cuts.
Place the seasoned duck breasts skin-side down into a cold, dry frying pan. The fat from the skin will provide plenty of oil for cooking. The cold pan will introduce heat to the breasts more gently, helping to prevent over cooking.
Place the pan over medium heat and cook skin-side down for about 8-10 minutes. Keep checking to make sure the skin doesn't burn. You should start to hear a good sizzle, and smell the aroma of cooking fat.
Flip over to the flesh side and let cook for 2-3 minutes. The cold pan technique will have evenly cooked through most of the breast, so you only need the flesh to 'kiss the pan' to finish the cooking. Remove and set aside, allowing to cool.
Blend the lemongrass, Thai chilies, and shallots, either in a food processor using quick pulses, or by hand using a stone mortar and pestle. The paste should be a bit chunky.
Thinly slice the cooled duck breast and add to a large mixing bowl. Add the mint, Thai basil, carrots, bean sprouts, paste mixture, fish sauce, juice of two limes, and toasted rice flour. Gently toss all ingredients together.
Add additional salt as needed.
Serve with butter lettuce for making wraps and additional lime wedges.
Notes
Yia Vang is the founder and head chef of the pop-up restaurant Union Hmong Kitchen, and his new restaurant, Vinai, coming to Northeast Minneapolis in 2021. Laab, or larb, roughly translates to 'finely chopped' and refers to the way the protein and aromatic ingredients are prepared. Though laab is a staple throughout Thailand and Laos, this version is inspired by the flavors and techniques of Hmong cooking, and was passed down to Yia from his father.
Courses Lunch, Dinner
Cuisine Hmong