Wild Rice Pilaf Stuffed Acorn Squash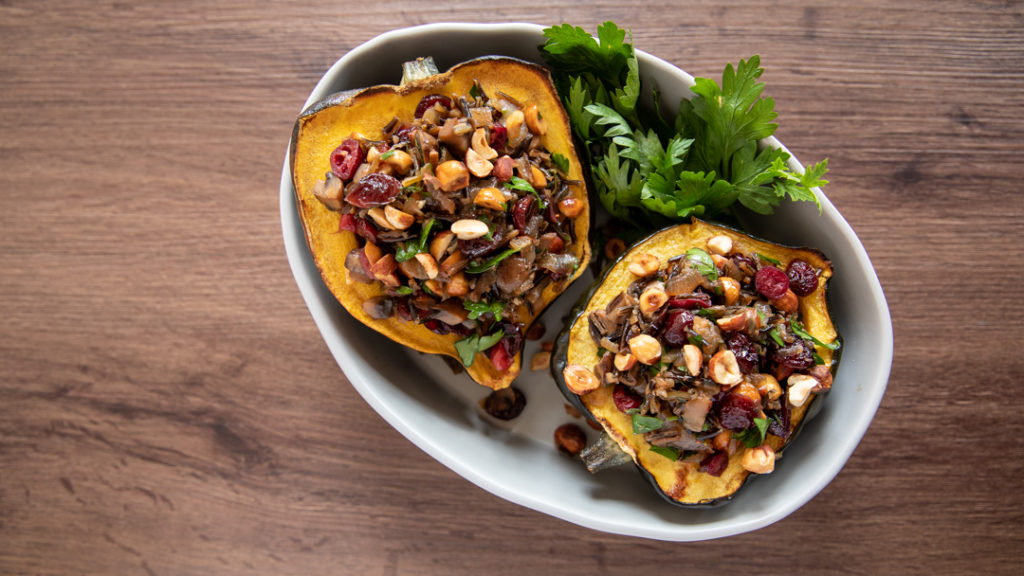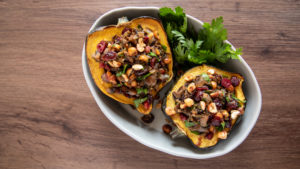 Print
Wild Rice Pilaf Stuffed Acorn Squash
Ingredients
2 delicata or acorn squash
1 large onion, chopped
2 to 4 Tablespoons vegetable oil
8 ounces mushrooms, chopped
2 cloves garlic, smashed
½ cup dry white wine or chicken or vegetable stock
1 cup cooked wild rice*
½ cup dried cranberries
¼ cup chopped fresh cranberries (or thawed, frozen cranberries)
1 Tablespoon real maple syrup
½ cup toasted, chopped hazelnuts** (plus a few for garnish)
¼ cup finely minced parsley (plus extra for garnish)
2 Tablespoons thyme, finely minced
Salt, pepper, and red pepper flakes to taste
Instructions
Preheat the oven to 425°F. Cut the squash in half lengthwise and scoop out the seeds to make containers. Brush with oil and place, cut side up on baking sheets, and place in the oven to roast until soft and just starting to char a bit, about 30 to 40 minutes. Remove and set aside; leave the squash on the pan.
Film a large skillet with the remaining oil, set over medium heat, and sauté the onion until it begins to turn golden, about 3 to 5 minutes. Add the mushrooms, spreading them out so they release their juices and begin to brown, about 3 to 5 minutes. Stir in the garlic and continue cooking until the garlic is soft, about 1 minute. Stir in the wine or stock to deglaze the pan, scraping up any brown bits that stick to the pan. Toss in the rice, dried and fresh cranberries, maple syrup, hazelnuts, parsley and thyme, and salt, pepper, and red pepper flakes, to taste.
Using a large spoon fill the squash with the wild rice mixture, pressing lightly to pack them full  while mounding them slightly. Return to the oven to heat the ingredients through, about 8 to 10 more minutes. Serve garnished with the additional chopped nuts and herbs.
Notes
Tips:
Use delicate or acorn squash for this very pretty side dish or vegan entrée. You can make all of the components of this dish ahead then assemble and warm before serving.
To cook wild rice:  Place 1/4 cup wild rice in a saucepan and cover with 4-inches of water. Set over high heat and bring to a boil, reduce the heat to simmer. Cover and cook the rice, checking occasionally, until the kernels have opened slightly, about 15 to 20 minutes. Remove and drain.
To toast hazelnuts: preheat the oven to 350°F. Turn the hazelnuts out onto a baking sheet and toast until they begin to smell nutty and the skins begin to crack, about 4 to 7 minutes.  
Remove and roll into a clean dish towel and rub to remove the skins.