Wild Rice and Mushroom Hot Dish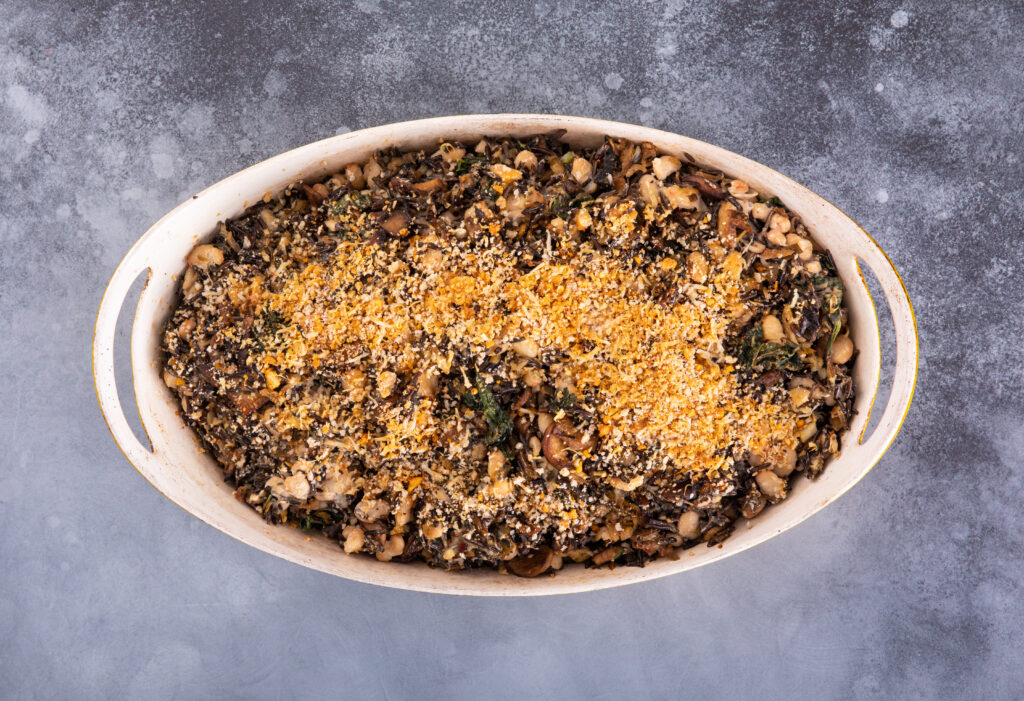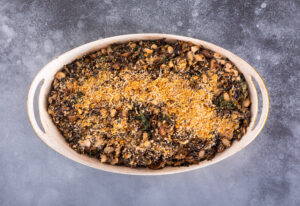 Print
Wild Rice and Mushroom Hot Dish
Yield 6 servings
Wintertime has its own official dish in Minnesota (don't call it a casserole!). Traditional "hot dish" is the ultimate Midwestern comfort food, filled with rich and satisfying ingredients to warm you — mind, body, and soul. Our version features another beloved food found only in this part of the world: wild rice harvested by hand on the Red Lake Ojibwe reservation. What a way to savor the season!
Ingredients
2½ cups vegetable stock
1 cup Red Lake Nation Wild Rice, rinsed and drained
3 Tbsp butter divided, plus more to grease casserole dish
3 Tbsp oil divided, plus more as needed
½ lb. R&R Cultivation Mushrooms, preferably a mix of varieties, thinly sliced (if using portabello, remove gills, if using shiitake, remove stems)
1 Tbsp tarragon
4 cloves garlic, chopped
1 jar pimentos, drained
3 (14-ounce) cans cannellini or garbanzo beans, drained (reserve ½ cup of the liquid)
2 small leeks, white and light green parts only, washed and finely diced (about 2 cups)
1 small fennel bulb (about 2 cups or 6 oz), with stalks thinly sliced & fronds to garnish
2 tsp anchovy paste
Pinch red pepper flakes (optional)
5 oz. (about 4 cups) Lacinato kale, chopped
2 Tbsp sherry vinegar
Kosher salt and fresh cracked black pepper to taste
¾ cup panko bread crumbs
½ cup (2.5 oz) grated Asiago cheese
¾ Tbsp Minnesota Nice Twin Cities Rub
Instructions
Combine stock and wild rice, bring to a boil, then reduce heat, cover and simmer until tender, about 50-60 minutes. Drain and set aside.
Preheat oven to 400° and butter a 9x9 casserole dish.
In a large, heavy skillet, heat 2 Tbsp. butter and 2 Tbsp. oil over medium-high heat. Add the mushrooms and sauté until browned, about 8-10 minutes. Add tarragon, garlic, and a pinch of salt and sauté another minute. Lower heat if needed to prevent burning garlic. Transfer the mushroom mixture to a bowl and add the pimentos and cooked wild rice.
In a separate bowl, mash 2 cans of beans with some of the liquid, leaving it a bit chunky. Transfer it and the remaining can of drained whole beans to the mushroom bowl and combine.
In the empty skillet, heat the remaining butter and oil over medium. Stir in leeks, fennel, and a pinch of salt; cook and stir until soft and lightly browned. Add anchovy paste, stir and cook 3 minutes. Add kale, red pepper flakes, and 3 Tbsp. of water, cover and cook 5 minutes, stirring occasionally, until kale is tender. Add sherry vinegar to deglaze the pan (scrape up any browned bits) and cook until the vinegar has evaporated. Transfer the mixture to the mushroom bowl and combine. Pour all ingredients into the prepared casserole dish.
In a medium bowl, combine the panko bread crumbs, asiago cheese, and Minnesota Nice rub. Sprinkle on top of casserole, drizzle with olive oil, and bake uncovered until golden, about 20 to 30 minutes. Let cool slightly before serving. Top with fennel fronds for garnish if desired.