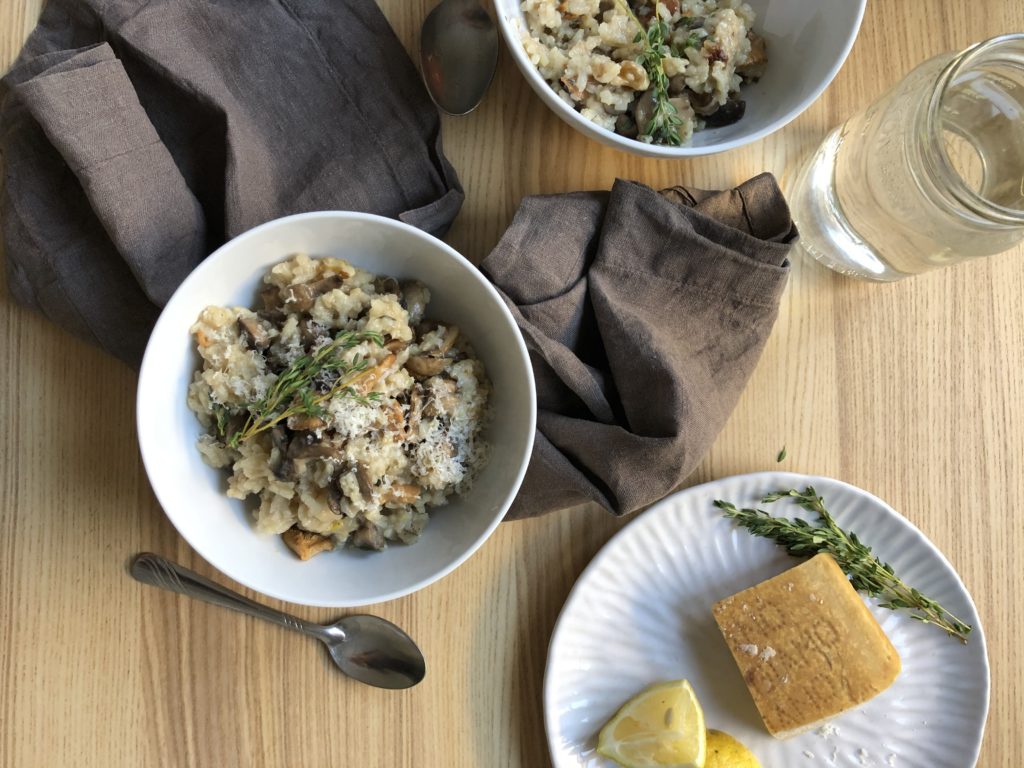 Print
Wild Mushroom Risotto
Yield 4 servings
New mushroom varieties can be both exciting and intimidating. We've designed this recipe to help you experiment with wild mushrooms varieties that perhaps you've never cooked with before – what better way then in a delicious, soul-nourishing risotto with sage, thyme, and creamy Arborio rice. Feel free to interchange whichever wild mushroom variety is in season with the mushrooms listed in this recipe! Get creative!
Ingredients
10 Tbsp of ghee or butter, divided
12 oz firm mushroom (button or crimini), chopped into 1" pieces
8 oz wild mushrooms (hedgehogs, chanterelle, morels, oyster, etc), chopped into 1" pieces
1/4 cup shallot, diced
1/4 cup leek, diced
1 1/4 cup Arborio rice
5 cups chicken or vegetable stock
1 Tbsp lemon juice
6 sprigs fresh thyme, destemmed (or 1 tsp dried thyme, divided)
1 tsp ground sage
Salt and pepper
1/4 cup Parmesan cheese, plus more for serving
Optional: 4 strips of bacon, cooked and chopped into 1/2" pieces
Instructions
Heat 2 Tbsp of the ghee in a large skillet over medium-high heat. Add ¼ of the mushrooms, sprinkle with salt, and sauté for 3-4 minutes. Repeat this step until all of the mushrooms are sauteéd. Set aside.
Bring the 5 cups of stock to simmer in a saucepan and keep warm. 
Heat 2 Tbsp of ghee over medium-low heat in a large saucepan. Add the shallot and leek, sprinkling with salt, and sauté for about 5-7 minutes or until translucent. 
Add rice to the saucepan and stir for 3-4 minutes or until edges are translucent.
Increase the heat to medium and add ½ cup of the broth, stirring constantly until the liquid is absorbed. Add ¾ cup more broth, stir until absorbed.
Add mushrooms, thyme, sage, and lemon (and bacon if using) and stir. Continue to add broth in 3/4 cup increments until all is absorbed, about 10-20 minutes.
Stir in 1/4 cup Parmesan cheese, and set risotto aside.
Dish into bowls and top with thyme, additional cheese, and a squeeze of lemon.