Warm Kale Salad with Apples and Curried Cashews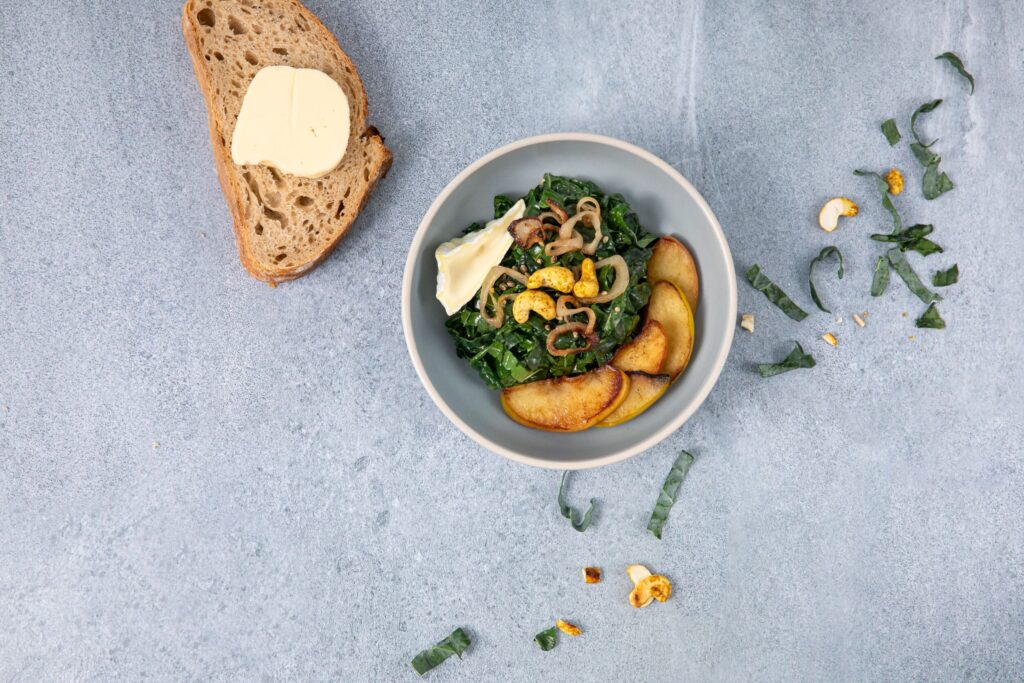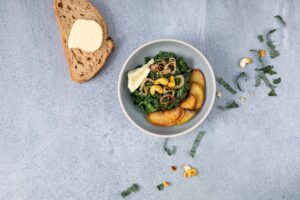 Print
Warm Kale Salad with Apples and Curried Cashews
Enjoy local produce well into fall with this veggie-forward warm kale salad. Fresh greens, caramelized apples and shallots, cheese, and a lively vinaigrette come together for a burst of nourishing fall flavor.
Ingredients
Sherry Vinaigrette
1 Tablespoon B&E's maple syrup
2 Tablespoons sherry vinegar
½ teaspoon Dijon mustard
5-6 Tablespoon roasted walnut oil, such as La Tourangelle
Kosher salt and pepper to taste
Salad
Just under ½ cup Tierra Farms curried cashews
2 Tablespoons Field Theory hemp seeds (optional)
1-2 Tablespoons Rochdale hand-rolled butter
2 large shallots (or half red onion), thinly sliced
Two bunches (12-16 oz) Lacinato kale, well washed, stemmed, dried and sliced cross-wise into ribbons
3 medium apples (about one pound), in 1/4" slices
2 oz. Brie or another soft cheese, such as Alemar Bent River Camembert 
Instructions
In a glass jar with a lid, add maple syrup, sherry vinegar, and Dijon. Add the oil, cover the jar, and shake very well. Add kosher salt and pepper to taste. Set aside until ready to use.
In a large dry skillet over medium-high heat, toast cashews and hemp seeds until aromatic, about 5 minutes. Remove from skillet and allow to cool. Return the skillet to the heat and add the butter and sliced shallots. Slowly sauté until tender and slightly brown, about 8 minutes. Add apple slices and sauté for another 8-10 minutes until apples are softened and lightly browned. Remove pan from heat.
Place the sliced kale in a large wooden salad bowl. Add about 2 Tablespoons of the dressing and a pinch of kosher salt, then massage the dressing into the kale for about 30 seconds.
Add the shallots and apples to the kale, add about 2-3 more Tablespoons of the vinaigrette, and toss well. Serve on plates and top each portion with equal amounts of cheese, cashews, and hemp seeds.