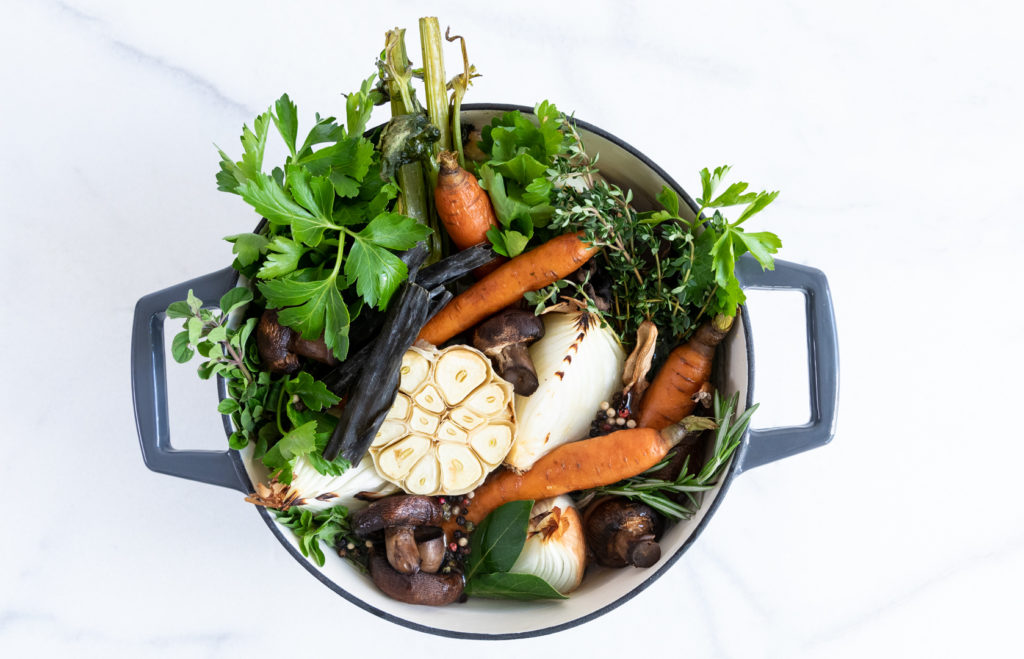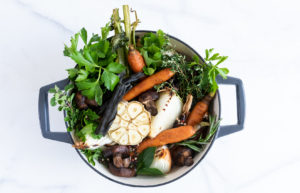 Print
Vegetable Broth
Yield 10 cups
A vegan version of the traditional chicken broth with a boost of rich flavor from the roasted vegetables. Use this broth in place of water in rice or grains for really flavorful dishes or as a starter for vegetable-based soups, and stews.
The kombu seaweed paired with the vinegar provides a great source of calcium and minerals for a vegetable-based nutritional boost for your broth.
Ingredients
2 large onions, quartered
4 celery ribs with leaves, cut into 4-inch pieces
4 carrots, cut into 4-inch pieces
8 ounces fresh crimini mushrooms
1 head of garlic, unpeeled and cut in half crosswise
1 Tablespoon olive oil
½ teaspoon salt
¼ teaspoon pepper
1 bunch fresh parsley
¾ ounce dried mushrooms
4 pieces kombu seaweed
3 sprigs fresh oregano
3 sprigs fresh thyme
2 bay leaves
1 Tablespoon whole peppercorns
1 Tablespoon apple cider vinegar
12 cups water
Instructions
Heat oven to 450°F.
In a large roasting pan or baking sheet, combine onions, celery, carrots, fresh mushrooms, and garlic. Toss vegetables with oil, salt, and pepper until lightly coated. Bake 30 to 40 minutes or until the vegetables are golden brown and tender.
In a large stock pot, combine roasted vegetables and all remaining ingredients and bring to a boil over high heat. Cover, reduce the heat to medium-low and simmer for 6 hours, skimming any scum that rises to the top every 30 minutes.
Carefully strain the broth through a fine-mesh strainer or cheesecloth to remove all the solids; discard. Use immediately or cool slightly, cover and refrigerate for up to 1 week or freeze for up to 2 months.