Vegan Tempeh Swedish "Meatballs"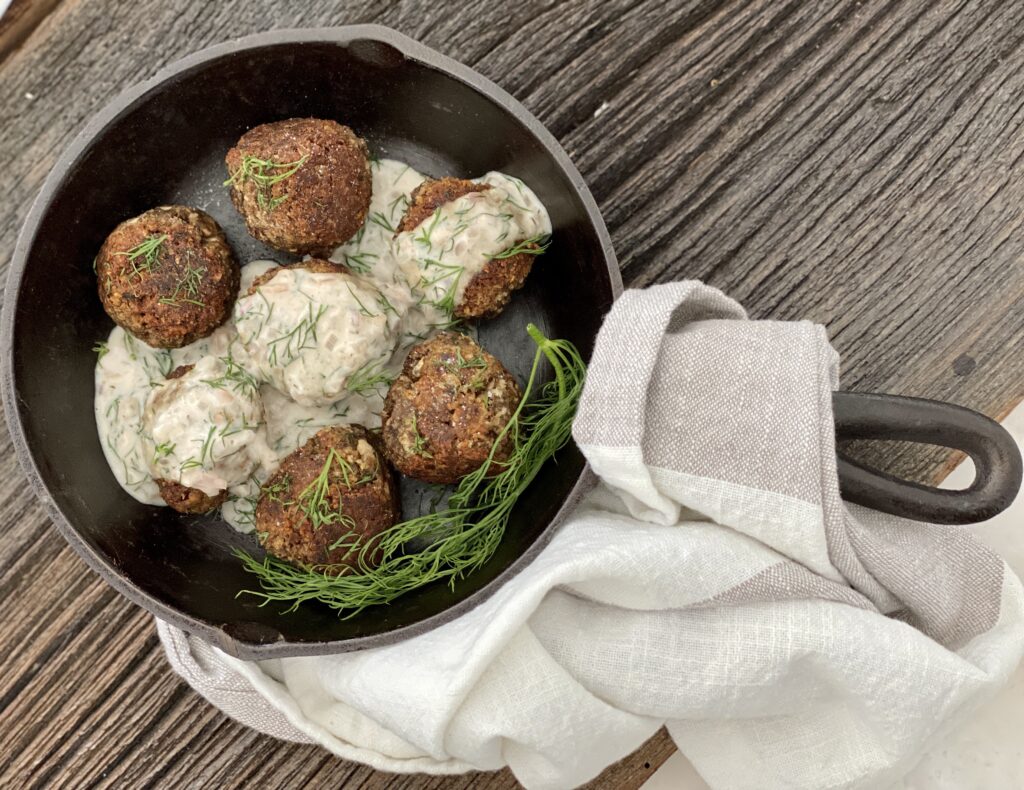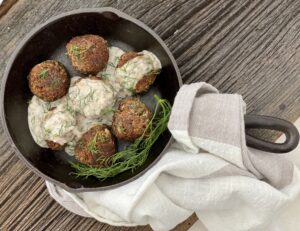 Print
Vegan Tempeh Swedish "Meatballs"
Yield 25 balls
We've reimagined this regional favorite for vegans and meat minimalists. These meat-free and dairy-free Swedish vegan meatballs are sure to be a hit at your holiday gathering or game night — a vegan appetizer with traditional flavors sure to please.
Ingredients
Meatballs
4 oz. mushrooms (any variety)
½ cup shallot, finely minced 
3 cloves garlic, minced
1 tsp salt
8 ounces tempeh
1 batch flax egg*
½ tsp ground allspice
¼ cup chopped fresh parsley
½ cup rolled oats (soaked in 1/4 cup water) 
2 Tbsp vegan butter, divided
1 Tbsp olive oil (for sautéing)
Kosher salt & fresh cracked black pepper (to taste)
For the sauce:
1 Tbsp vegan butter
½ cup shallot, minced
½ tsp kosher salt
1 Tbsp all-purpose or whole wheat flour
½ cup Forager (or another vegan) sour cream
1-2 Tbsp fresh herbs (dill, rosemary, parsley), finely minced
Fresh cracked black pepper (to taste)
*Flax egg
1 Tbsp ground flaxseed
2 ½ Tbsp water
Instructions
Preheat oven to 350°. In a small bowl, combine flaxseed meal and water and stir to combine. Let rest for 5 minutes to thicken. In another small bowl, combine the oats and water, set aside.
In a food processor, pulse the mushrooms until minced (about 5-6 pulses). In a medium skillet, add 1 Tbsp. vegan butter and the mushrooms, sauté until browned, about 8 minutes. Add the shallots and sauté until softened for another 4-5 minutes. Add the garlic and salt and sauté for another 30 seconds. Transfer to a medium-size bowl and add ground black pepper.
To the food processor, add the tempeh and pulse, breaking it down until it resembles ground meat. Add the flax egg, oats, allspice, and parsley, and pulse to combine — it should become a moldable 'dough.' Transfer to the bowl with the mushroom mixture and stir to combine.
Scoop out about 1 Tbsp. of the tempeh/mushroom mixture and roll into balls, about 25 total. Next, heat the same skillet you used earlier to medium heat. Add 1 Tbsp. of vegan butter and the olive oil, then gently place the tempeh balls in the skillet. Brown on all sides, turning every minute or so, about 5 minutes.
Place the browned tempeh balls in a serving dish and bake for 15-20 minutes until the meatballs are deep golden brown and somewhat firm to the touch.
Meanwhile, make the sauce: In the same skillet, heat  1Tbsp. vegan butter over medium-high heat until it bubbles, then add shallots and salt and sauté until softened, 3-4 minutes. Add 1 Tbsp. flour and cook for 2 minutes. Turn off the heat and add sour cream, fresh herbs, and more black pepper. Pour over the baked meatballs and serve.