Vegan Oatmeal Cookies with Orange Glaze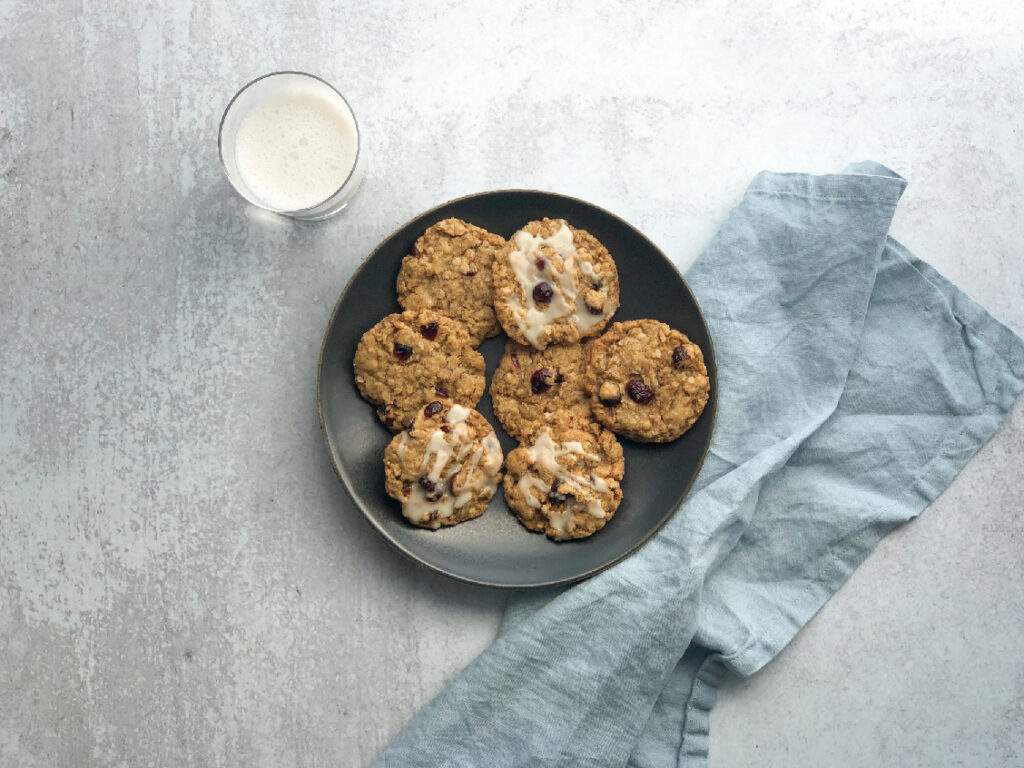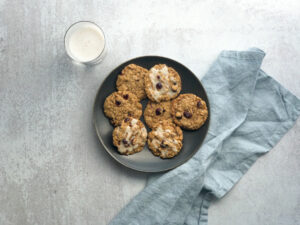 Print
Vegan Oatmeal Cookies with Orange Glaze
Yield 48 cookies
Ingredients
1 cup vegan buttery spread
1 cup white sugar
1 cup packed brown sugar
2 vegan flax "eggs"
1 teaspoon vanilla extract
2 cups gluten-free flour 
1 teaspoon baking soda
1½ teaspoons ground cinnamon
½ teaspoon nutmeg
3 cups quick oats
1 cup dried cranberries (roughly chopped)
For the Orange Glaze:
1 cup powdered sugar
1 Tablespoon orange juice
For the vegan flax "eggs":
For one "egg"

1 Tablespoon golden flax meal (can be found in refrigerated bulk)
3 Tablespoons water
Whisk the ground flax meal and the water until fully blended. Refrigerate for 15 minutes to allow mixture to stiffen.
Instructions
In a large bowl, cream together butter and both sugars. Beat in the flax eggs a little at a time, and then stir in the vanilla.
In a separate bowl, combine the flour, baking soda, salt, cinnamon, and nutmeg.
Stir dry ingredient mixture into the creamed butter mixture a little at a time, scraping the sides of the bowl as you go.
Once thoroughly mixed, stir in the oats a cup at a time. Then, stir in the chopped cranberries.
Chill in refrigerator for at least 1 hour, up to overnight.
Preheat oven to 375°. Line a cookie sheet with parchment paper. Shape dough into 1" balls.* Place about 2" apart and flatten slightly with the palm of your hand.
Bake for 7-9 minutes in preheated oven. ** Allow cookies to cool on baking sheet for 5 minutes before transferring to a cooling rack.
After cookies are fully cooled, drizzle with orange icing.
Store in an airtight container, separating layers of cookies with parchment paper.
*Be careful not to overwork the dough. The heat from your hands can start melting the vegan butter if handled too much.
**Do not overbake. The vegan butter will cause them to spread, flatten, and bubble if overbaked.