Vegan Jackfruit Bolognese Sauce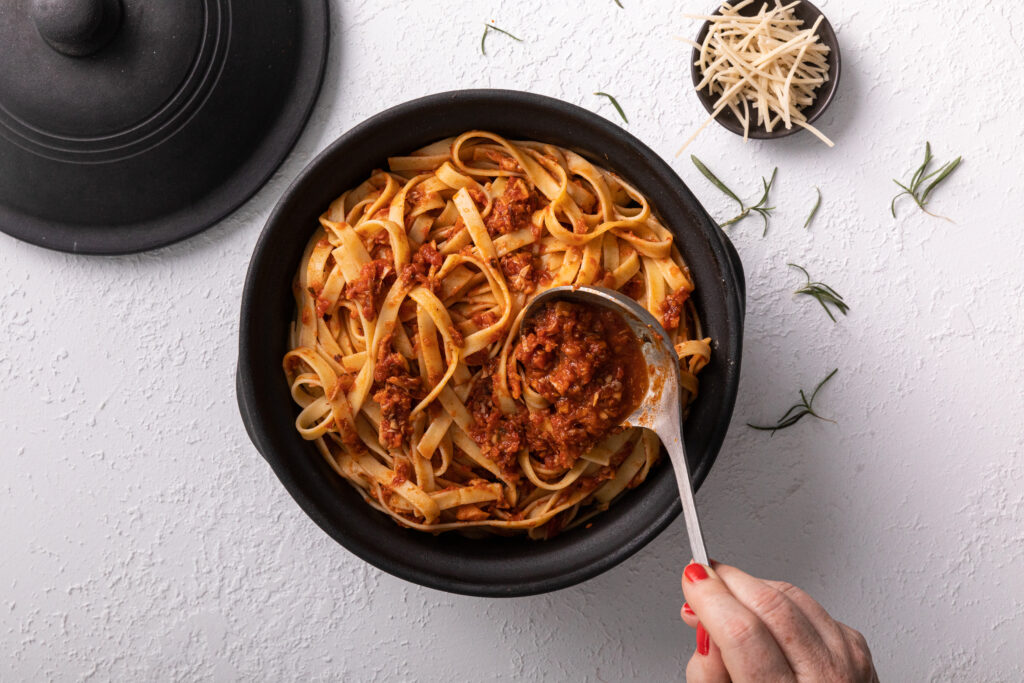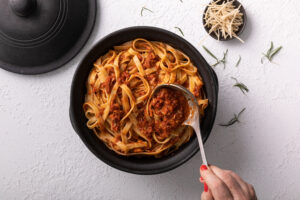 Print
Vegan Jackfruit Bolognese Sauce
Ingredients
3 Tablespoons olive oil, divided
1 can jackfruit, well-drained and patted dry, broken into tiny shreds*
1 medium onion, finely minced*
2 medium carrots, finely minced*
1 stalk celery, finely minced*
4 cloves garlic, sliced
½ teaspoon kosher salt
1 Tablespoon Northwood Mushrooms powder**
3 Tablespoons tomato paste
1 (28 oz.) can crushed tomatoes
1 cup vegetable stock
1 Tablespoon apple cider vinegar
2 teaspoons dried oregano
1 teaspoon smoked paprika
1 bay leaf
1 teaspoon dried rosemary
1 teaspoon red pepper flakes
Freshly cracked black pepper, to taste
Vegan Parmesan cheese, to taste
1½ lbs. pasta, cooked
Instructions
To a heavy-bottomed Dutch oven over medium-high heat, add one Tablespoon olive oil. Add the jackfruit and cook until the edges are browned and crispy, breaking it up with a wooden spoon (to resemble pulled pork), about 10 minutes. Remove from the pan and set aside.
To the same pan, add the minced vegetables (not the garlic yet) and kosher salt and sauté for about 10 minutes until vegetables are soft and lightly golden. Add the garlic, mushroom powder, and tomato paste and sauté another minute. To the pan, add the crushed tomatoes and the crisped-up jackfruit.
Add the vegetable stock, vinegar, bay leaf, spices, and black pepper. Simmer for about 20 minutes until the sauce thickens. Remove the bay leaf and serve with freshly cooked pasta and vegan Parmesan cheese.
Notes
*You can also use a food processor to mince the jackfruit and vegetables. Use pulsing motions, so the vegetables don't turn to mush.
**Substitution option: 8 oz. fresh mushrooms, finely chopped and sautéed with the vegetables.