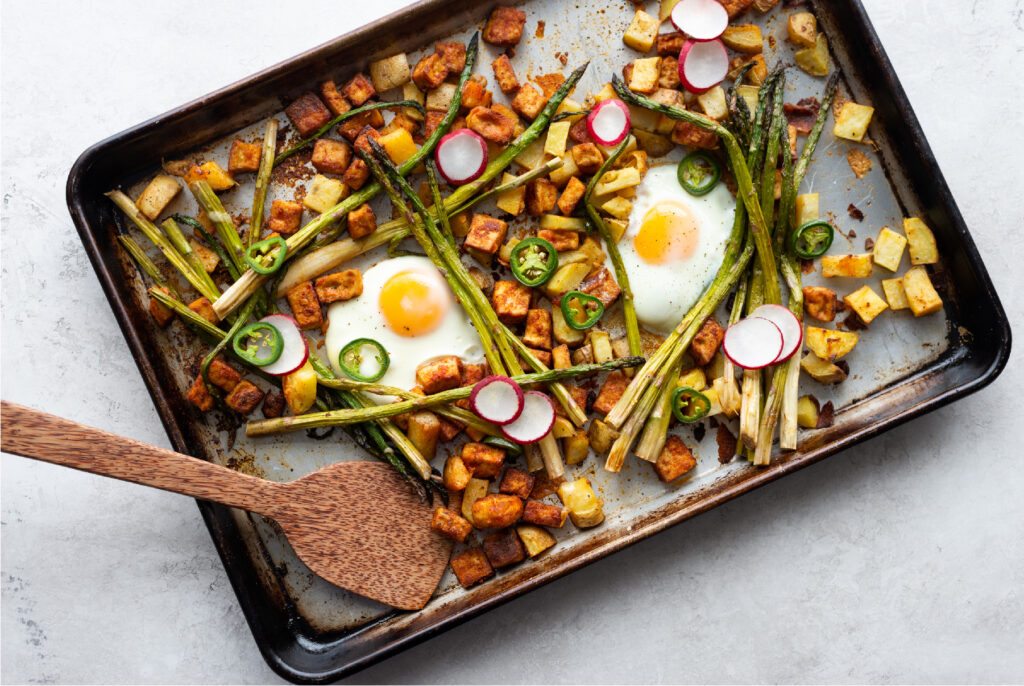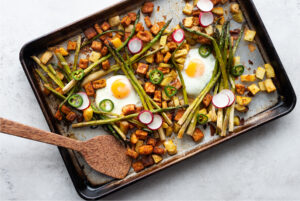 Print
Tofu Breakfast Hash
Sheet pan cooking is a no-fuss way to deliver family meals. Take this delicious breakfast hash—eggs, potatoes, in-season asparagus, peppers, marinated tofu, gouda, and more—tossed together and baked with smoked paprika and balsamic vinegar. What a way to start a weekend morning!
Ingredients
1 package firm tofu, cut into ½ inch pieces
1 Tablespoon coconut aminos
1 teaspoon smoked paprika
½ teaspoon garlic powder
1 Tablespoon cornstarch
1 lb. potatoes (any variety or a mix of your favorites), scrubbed and cut into ¾ inch pieces
2 Tablespoons sunflower oil
1 bunch asparagus
4 eggs
1 jalapeño, sliced in rings
3 red radishes, sliced thin
2 oz. smoked gouda, shaved
Salt and pepper to taste
Instructions
Preheat oven to 425°.
Line a large, rimmed baking sheet with a clean tea towel or paper towels and arrange the cubed tofu in a single layer over the top. Lay another towel over the tofu and place something heavy (wood cutting board, cookbooks) to help the tofu drain for at least 30 minutes.
In a medium bowl, mix the pressed tofu, aminos, paprika, and garlic powder and marinate for 30 minutes. Sprinkle with the cornstarch until evenly coated, then add potatoes to the bowl along with 1 teaspoon salt and sunflower oil and toss.
Arrange the tofu and potatoes in a single layer on a parchment and bake for 30 minutes, tossing halfway through.
Remove tray from oven and place asparagus on top of the tofu and potatoes. Make four wells in the vegetables and crack an egg into each. Return the pan to the oven for another 10-12 minutes, until the tofu is deeply golden on the edges, the potatoes and asparagus are browned and tender, and the eggs are cooked to your liking.
Remove from the oven and garnish with jalapeños and radishes and sprinkle with the shaved gouda.
Notes
Press and marinate the tofu the night before for best results.