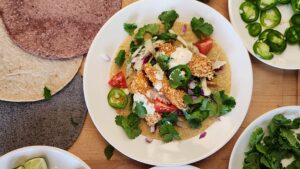 Print
Tilapia Tacos
Yield 4-6 tacos
These classic breaded tilapia tacos are gluten-free and, with a few easy tweaks, dairy-free as well. Made using versatile, budget-friendly tilapia, they're sure to become a regular in your weekly recipe dinner rotation!
Ingredients
For the tilapia:
½ pound (2 fillets) fresh tilapia, cut into 1" strips
¼ cup mayonnaise or mayo alternative
¾ cup rice crackers, crushed
½ teasoon sweet paprika
½ teaspoon onion powder
¼ teaspoon kosher Salt
½ teaspoon lemon pepper seasoning – or ¼ teaspoon finely ground black pepper, to taste
Cooking spray (optional)
For the slaw:
I package Crazy Fresh prepared kale slaw
Salad Girl Herb Vinaigrette
For the tacos:
4-6 Nixta heirloom corn tortillas
Toppings of your choice such as fresh jalapeños, cherry tomatoes, red onion, cilantro, radishes, sweet peppers, salsa, fresh lime, etc.
For the lime crema:
¼ cup sour cream or dairy-free alternative
¼ cup fresh lime juice
Zest of one lime
Salt and pepper, to taste
¼ - ½ teaspoon chipotle or chili powder (optional), to taste
Instructions
Preheat oven to 400° F.
Prepre Lime Crema by mixing together all ingredients in a small bowl. Cover and refrigerate until ready to serve. Slice and chop any fresh toppings before baking the fish. Refrigerate until ready to serve.
Crush the rice crackers using a zipper bag and rolling pin or a food processor. Place cracker crumbs in a rimmed dish. Add seasonings and stir well to combine. Set aside until ready to use.
Prepare the tilapia by cutting the fillets into 1" strips. Brush the strips lightly with mayonnaise, making sure to cover completely. This acts as a binder for the cracker crumbs and helps keep fish tender and juicy.
Coat the fish completely with seasoned cracker crumbs. Place the crumb-coated fish on a rimmed baking pan with baking rack, spacing pieces about 1" apart. Lightly spray the top of each piece with cooking spray, turn the pieces and repeat. The cooking spray is optional, but helps to brown and crisp the crumb coating while baking.
Bake for 10 minutes, then flip the pieces and bake for another 10 minutes. Cooked fish should reach an internal temperature of 145° F.
While fish is baking, warm the tortillas according to package directions. Make the slaw by tossing a couple handfuls of greens with the dressing.
To assemble the tacos, add dressed slaw and 2 – 3 pieces of baked tilapia on each tortilla. Add any toppings you like, drizzle with Lime Crema, and enjoy!
Looking for more recipes featuring tilapia? Try our Tilapia and Israeli Couscous Parchment Parcels.