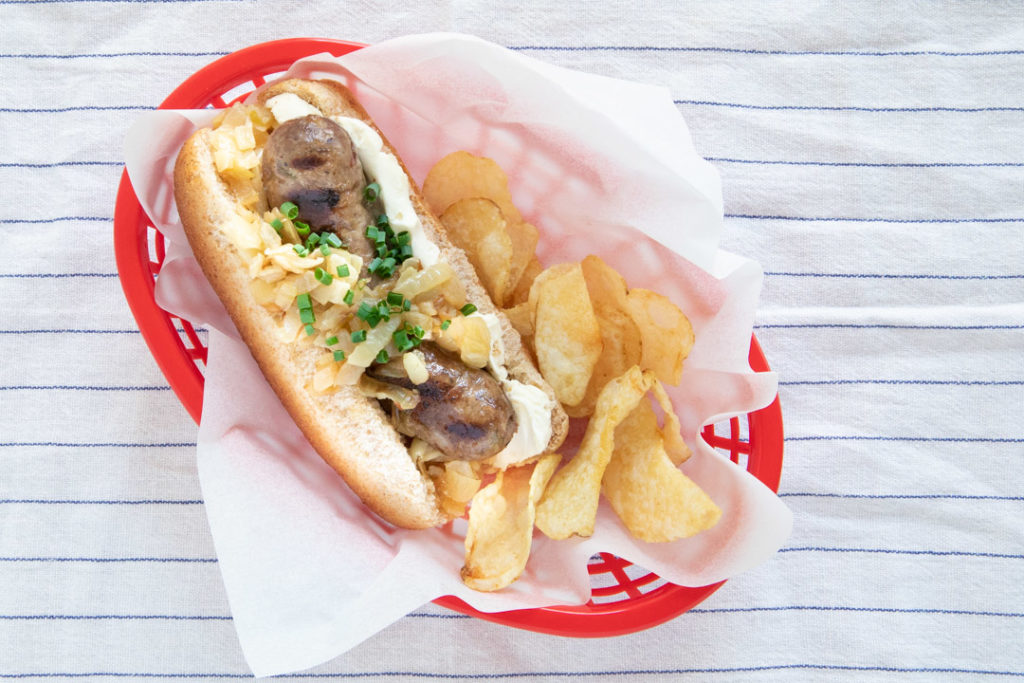 James Norton, food editor of The Growler, says:
Go traditional with this Philly cheese beef and pork brat. Give it a healthy smear of cream cheese and sprinkle liberally with caramelized onions.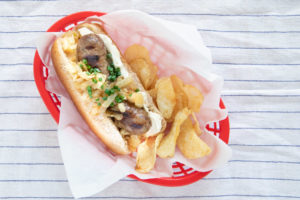 Print
The Philly Squared
Yield 4 servings
Ingredients
3 tablespoons butter
1 large onion, chopped
1 can or bottle (12 oz) beer
4 Philly Cheese Beef and Pork Brats
2 ounces cream cheese, softened (about 1/4 cup)
4 wheat brat buns
Sesame Seeds
Ketchup and mustard, if desired
Instructions
In 12-inch heavy skillet, melt butter over medium-low heat. Cook onions in butter 20 to 30 minutes, stirring frequently, until onions are very soft and light golden brown. Cool onion mixture slightly, about 10 minutes.
Heat gas or charcoal grill. In 2-quart saucepan, heat beer to boiling. Add bratwursts; reduce heat to low. Cover; simmer 15 minutes.
Drain bratwurst. Place on grill over medium heat. Cover grill; cook 5 to 10 minutes, turning once, until thoroughly cooked.
Spread 1 tablespoon cream cheese on cut side of each bun. Place bratwursts on buns. Top with caramelized onions and sesame seeds.