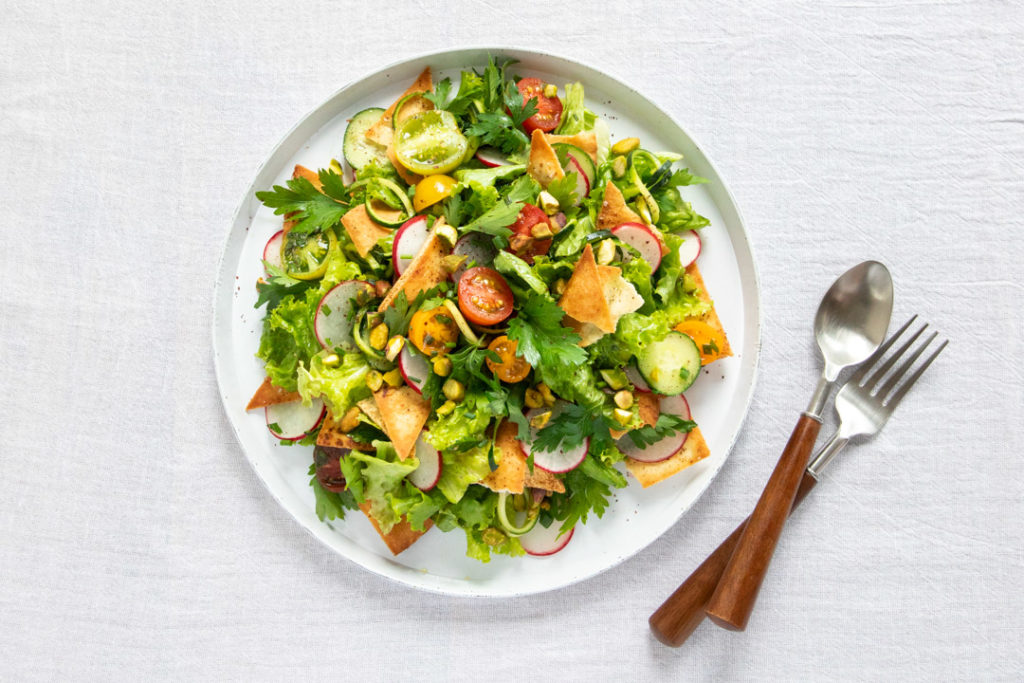 A twist on the traditional fattoush salad with lettuce, spiralized zucchini, radishes, sliced cucumber, and halved cherry tomatoes.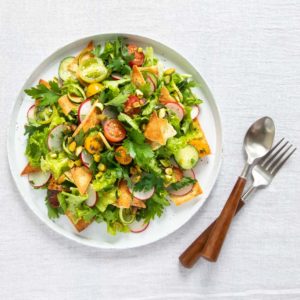 Print
Summer Fattoush Salad
Yield 4 servings
Ingredients
Pita Chips
4 pitas or pita pockets, cut into small wedges
1/4 cup olive oil
1 garlic clove, finely chopped
1 tablespoon sumac
1/2 teaspoon corse Kosher salt
Salad
1 heart of green leaf or Romaine lettuce, chopped
1 medium zucchini, spiralized
1/2 English cucumber, thinly sliced
1 cup cherry tomatoes, halved
5 radishes, thinly sliced
1 cup lightly packed fresh parsley leaves
1/4 cup chopped fresh mint leaves
Herb-vinaigrette
1/3 cup olive oil
1/4 cup chopped parsley
2 tablespoon thinly sliced mint
2 tablespoons chives, thinly sliced
2 tablespoons fresh lime juice
1 teaspoon honey
Salt and pepper
1 teaspoon sumac
Instructions
Heat oven to 400°F. Line 2 baking sheet with parchment paper.
Divide pita wedges in a single layer on the pans. In a small bowl mix together oil and garlic. Brush oil mixture over pita and season with sumac and salt. Bake 10 to 15 minutes, turning halfway through or until lightly brown; set aside
In a large mixing bowl, combine the chopped lettuce, zucchini noodles, cucumber, tomatoes, radishes, parsley and mint.
In a small whisk together all Herb-Vinaigrette ingredients until smooth.
Dress the salad with half of the vinaigrette and toss lightly. Add half of the pita chips, and toss gently. Serve the salad with additional dressing and pita chips.