Spring Herb and Vegetable Pasta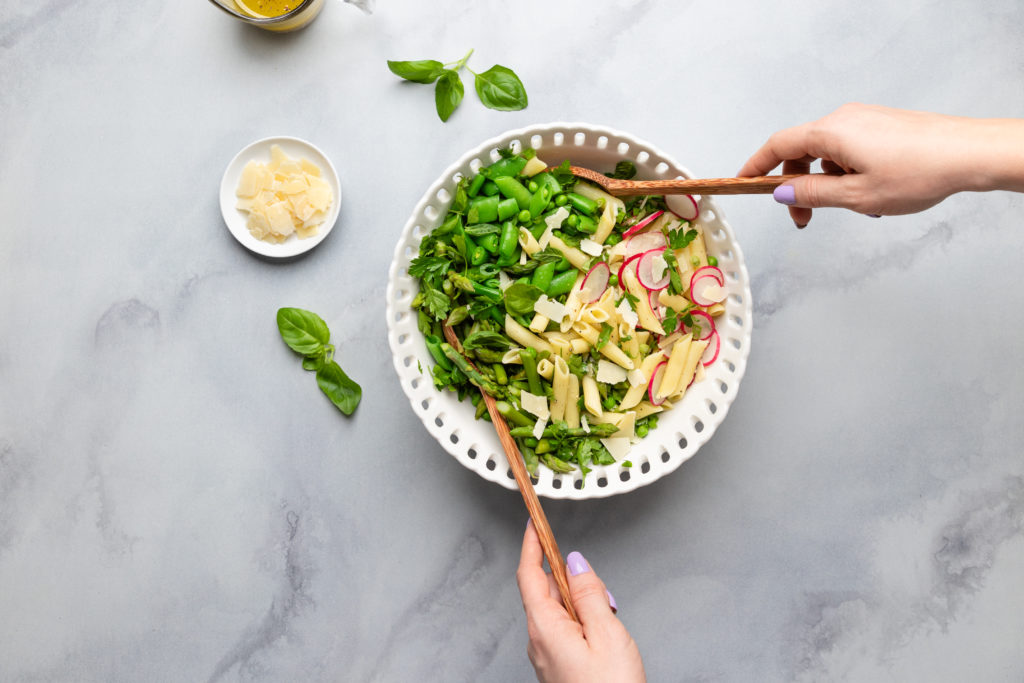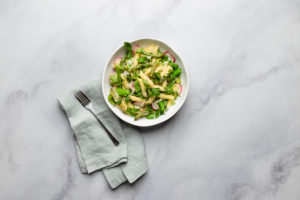 Print
Spring Herb and Vegetable Pasta
Yield 6 servings
Fresh, lemony and packed with spring vegetables, this pasta salad is perfect for picnics and potlucks. Serve with grilled chicken, steak or tofu for a heartier meal for a crowd.
Ingredients
Lemony Dressing
1 1/2 teaspoons finely grated lemon zest
1/4 cup fresh lemon juice
1/2 small shallot, finely chopped
3/4 teaspoon Dijon mustard
1/2 teaspoon sea salt
1/4 teaspoon ground black pepper
1/2 cup olive oil
Spring Pasta Salad
1 bunch (about 1 pound) asparagus, trimmed, cut into thirds
1 cup fresh shelled green peas or frozen, thawed
1 cup fresh snap peas, trimmed and halved
1 package (16 ounces) uncooked Field Day Penne Rigate pasta 
3 green onions, thinly sliced
3 radishes, thinly sliced
1/2 cup parsley, roughly chopped 
1/2 cup basil leaves, thinly sliced
2 tablespoons shredded or shaved Parmesan cheese
Instructions
In a small bowl or jar with a tight-fitting lid, blend together the lemon zest, lemon juice, shallot, mustard, salt, pepper, and oil with a whisk or fork; set aside.
Place a large bowl of ice water on the counter.
Bring a large pot of salted water to a boil over medium-high heat. Add the asparagus and cook for 2 minutes. Add the shelled peas and snap peas to the water and cook for an additional 1 minute. With a slotted spoon, transfer the asparagus, peas and snap peas to the ice water to cool completely; drain and set aside.
Bring the salted water back to a boil. Add the pasta, cook, and drain according to package directions. Transfer drained pasta to a large bowl and toss with half of the dressing to lightly coat.
Add the asparagus, peas, snap peas, green onions, radishes, parsley and basil to the pasta. Toss to combine. Top with Parmesan cheese and serve with additional dressing. Store in a sealed container in the fridge for up to 5 days.