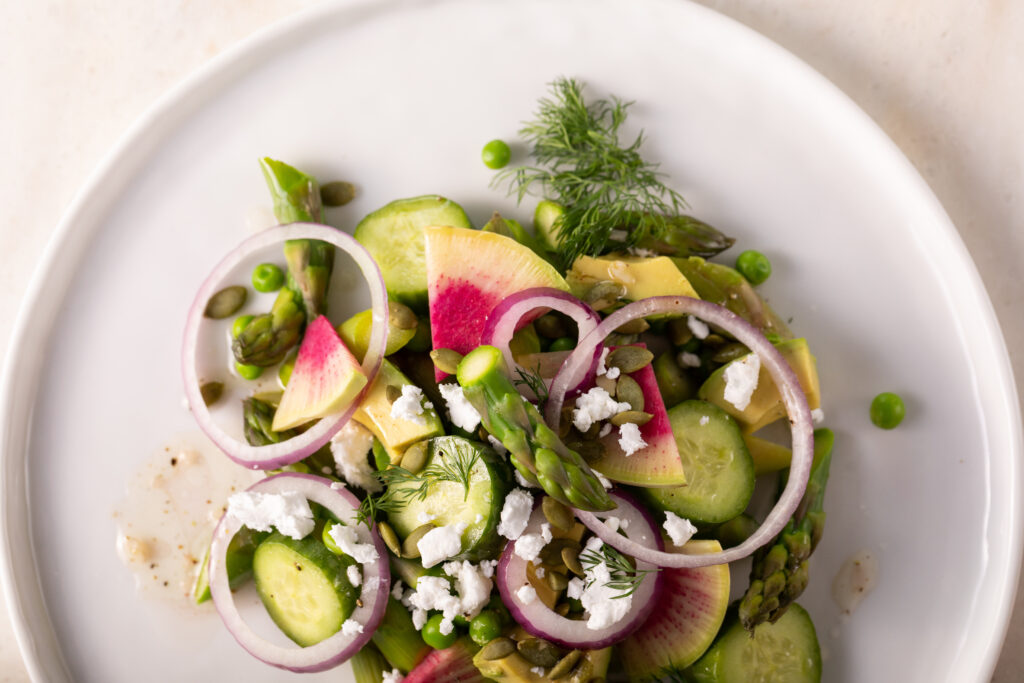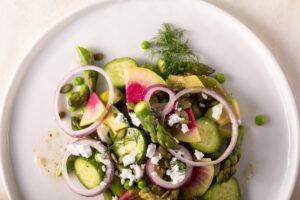 Print
Spring Brunch Salad
A fresh salad can be a delightful addition to any breakfast or brunch meal. This lively salad is bursting with spring flavors and bright colors.
Ingredients
1 bunch asparagus, tender parts, chopped into 1-inch pieces
2 teaspoons kosher salt
½ cup frozen peas, thawed
½ English cucumber, cut in half-inch chunks
2 radishes, thinly sliced
½ cup crumbled vegan feta cheese
½ avocado, pitted and diced
½ small red onion, thinly sliced
¼ cup chopped, toasted pepitas (roasted pumpkin seeds)
Fresh herbs, for garnish (mint, dill and/or chives)
Kosher salt and freshly cracked black pepper
 
Dressing
1 Tablespoon Stanley's Sugar Bush maple syrup
½ small garlic clove, finely minced
1 Tablespoon white wine vinegar
2 Tablespoons hazelnut oil
¼ teaspoon kosher salt
Instructions
Bring a pan of water to a boil and add 2 teaspoons of salt. Have a bowl of ice water nearby. Blanch the asparagus about 1 minute, until just tender and bright green. Transfer to the ice water for 1 minute, then drain. Dry the asparagus on a clean tea towel and transfer to a bowl with the peas.
Whisk together the syrup, garlic, vinegar, hazelnut oil, and salt. Add half of the dressing to the bowl with the asparagus and toss to coat. Season to taste with salt and pepper. Arrange asparagus/pea mixture on a platter and top with cucumber, radishes, feta, avocado, red onion, pepitas, and herbs. Drizzle with remaining dressing.