Spiraled Greek Cucumber Salad
Freshly spiraled cucumber noodles are what your summer salad needs. Topped with extra veggies, cheese and olives, then covered in a classic Greek dressing made with healthy fats. Super quick prep makes for an easy meal bursting with flavors.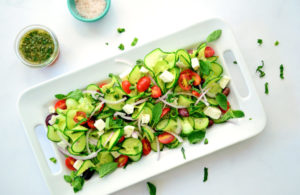 Print
Spiraled Greek Cucumber Salad
Ingredients
Salad:
1 large cucumber, spiralized on ribbon setting
1 cup cherry tomatoes, halved
1/2 cup thinly sliced red onion
1/2 cup cubed feta cheese
1/4 cup halved Kalamata olives
Dressing: 
1/4 cup extra virgin olive oil
2 tablespoons red wine vinegar
1 tablespoon chopped fresh oregano
2 tablespoons chopped fresh mint, plus more for garnish
1 teaspoon honey
1/2 teaspoon salt
1/2 teaspoon black pepper
Instructions
Whisk all dressing ingredients together. Set aside for 15 minutes and compose the salad.
Arrange cucumber zoodles, tomatoes, onions, cheese and olives on a platter, drizzle on desired amount of dressing. Garnish with torn mint leaves and add a fresh grinding of pepper.