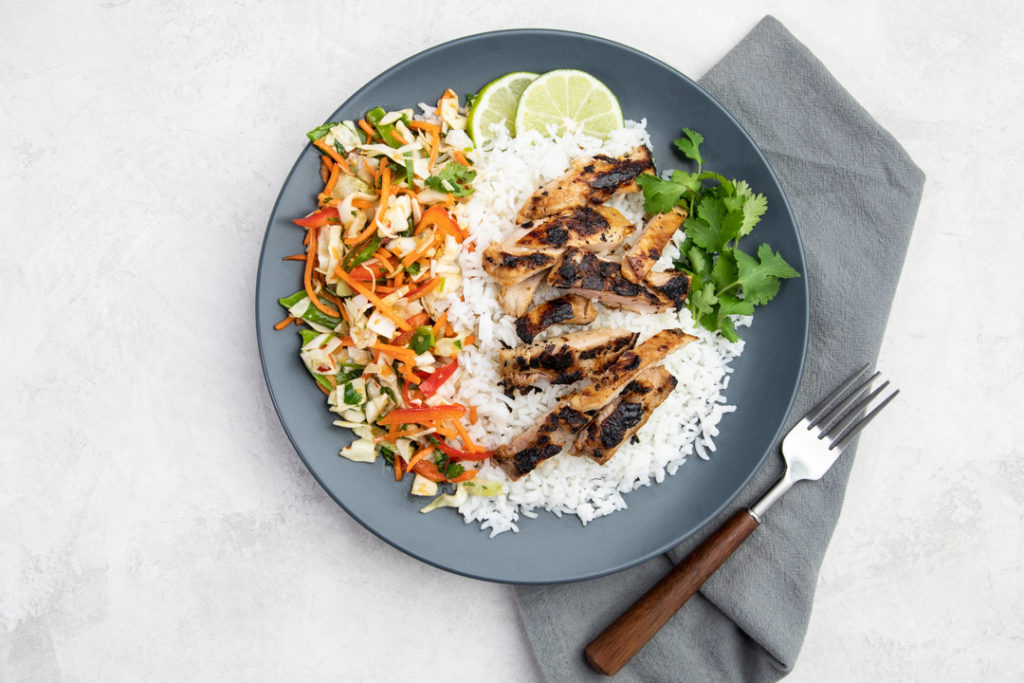 Print
Spicy Lemongrass Chicken
Yield 4 servings
Serve this flavorful chicken over white rice with a side of fresh Asian Slaw from our deli.
Ingredients
1 small shallot, finely chopped
3 tablespoons finely chopped fresh lemongrass
3 tablespoons soy sauce2 tablespoons fresh lime juice2 tablespoons honey1 tablespoon olive oil3 cloves garlic, finely chopped2 teaspoons freshly grated ginger1 tablespoon chili-garlic sauce
4 boneless skinless chicken breasts (about 1 1/2 pounds)
1 tablespoon olive oil
Cooked white rice, cilantro and lime, for serving
Instructions
In a large bowl, stir together shallot, lemongrass, soy sauce, lime juice, honey, 1 tablespoon olive oil, garlic, ginger, and chili-garlic sauce; set aside.
Between pieces of waxed paper or plastic wrap, place each chicken breast smooth side down; gently pound with flat side of meat mallet or rolling pin until about 3/4-inch thick.
Add chicken to marinade and turn to evenly coat. Marinate 30 minutes at room temperature or up to 24 hours in the refrigerator. Remove chicken from marinade, discard marinade.
In a 12-inch nonstick skillet, heat 1 tablespoon olive oil over medium heat. Add chicken; cook 7 to 9 minutes, turning once, until juice of chicken is clear when the center of thickest part is cut (165°F) and outside is deep brown. Serve chicken over rice with cilantro and lime.
Notes
Tip:
To prepare lemongrass, remove outer tough deep green layers. Finely chop tender white section inner stalk of the lemongrass.