Spaghetti Squash Tempeh Bowls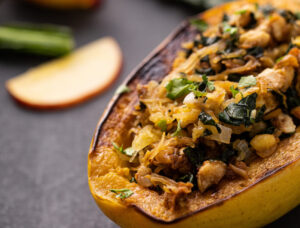 Print
Spaghetti Squash Tempeh Bowls
Vegan tempeh and spaghetti squash are elevated with a sauce that highlights the flavors of garam masala and seasonal apples.
Ingredients
2 small spaghetti squash, sliced in half vertically and seeded
4 Tablespoons olive or coconut oil, divided, plus extra if needed
Kosher salt and pepper
1 8-ounce block of tempeh
Water to cover
½ large onion, thinly sliced
1 small bunch Lacinato kale, thinly sliced
2 cloves garlic, finely minced
Fresh cilantro or pepitas for garnish
For the sauce:
2 teaspoons garam masala
½ teaspoon smoked paprika
½ teaspoon kosher salt
Freshly cracked black pepper
2 Tablespoons Tamari or soy sauce
1 teaspoon Dijon mustard
2 Tablespoons apple cider vinegar
1 large Fuji apple, peeled and grated on a box grater
Instructions
Preheat oven to 400°. Line a rimmed baking sheet with parchment paper.
Drizzle squash with 2 Tablespoons olive or coconut oil and sprinkle liberally with kosher salt and pepper. Place on a baking sheet cut side down and bake in the oven for 45 minutes until tender. Remove from oven, and when cool enough to handle, use a fork to scrape out the squash "spaghetti."
Meanwhile, in a large skillet add tempeh and water to cover. Simmer for 10 minutes. Drain the tempeh and pat it dry. Allow the block to cool, then crumble it into small pieces.Heat the remaining oil in the same large skillet over medium heat. Sauté the tempeh for about 5 to 7 minutes, stirring often until it's lightly browned. Add the onion and the kale and sauté until both are tender and lightly browned.
To make the sauce, add all the ingredients to a small bowl and whisk until combined. Add the garam masala sauce and the garlic to the sautéed tempeh crumbles and cook for 2 minutes. Add spaghetti squash to the mixture and combine. Divide the mixture among the leftover spaghetti squash shells (using them as bowls if desired) or into bowls. Garnish with cilantro or pepitas.