Soft and Chewy Paleo Ginger Cookies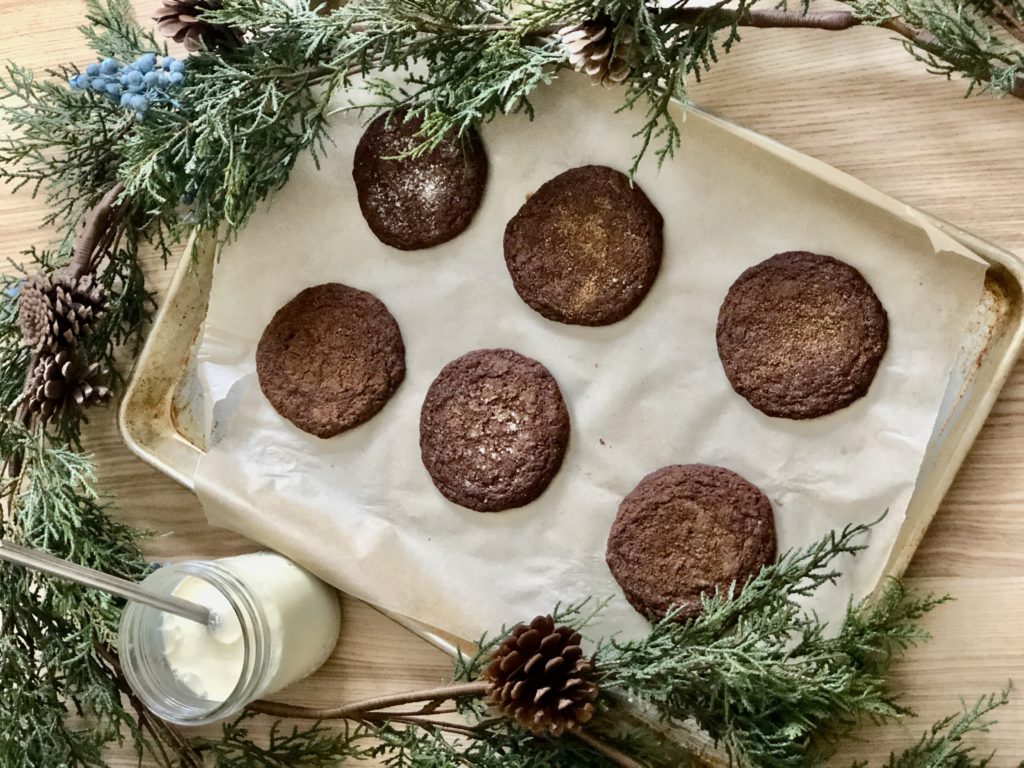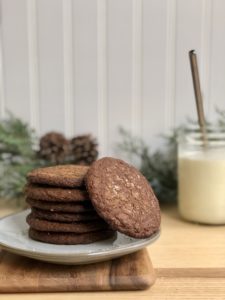 Print
Paleo Ginger Cookies
Sometimes it's difficult to find holiday treats that work with your specific diet. We've created a paleo-friendly ginger cookie that's full of flavor. It's made with your favorites — almond flour, coconut oil, coconut sugar — so it's chewy and soft, loaded with spice and deep molasses. This will be your next holiday party crowd-pleaser!
Prep time: 20 minutes
Baking time: 8-11 minutes
Oven: 375F
Ingredients
1/4 cup coconut oil
1/2 cup coconut sugar
1 egg
1 egg yolk
3 Tablespoons molasses
2 teaspoons vanilla
1 cup blanched almond flour, sifted
1/2 cup arrowroot flour
2 Tablespoons coconut flour, sifted
1 teaspoon baking soda
2 teaspoons ginger
1 teaspoon cinnamon
1/2 teaspoon sea salt
Additional coconut sugar or raw organic cane sugar for rolling
Instructions
Melt the coconut oil in a microwave or in a saucepan on the stove and allow to cool. Pour the cooled coconut oil into the bowl of a stand mixer and turn speed to low. Add coconut sugar, egg and egg yolk, molasses and vanilla and allow to cream for 2 minutes until well incorporated.
In a separate bowl, combine the almond flour, arrowroot flour, coconut flour, baking soda, ginger, cinnamon and sea salt. Use a whisk to stir to create a uniform mixture.
To the stand mixture, while on low speed, add the dry mixture and allow to just incorporate – don't over mix!
Remove the bowl from the stand mixture and cover. Refrigerate for at least two hours and up to 48 hours.
Once the dough is set, preheat the oven to 375F and place parchment paper on a 13x9 cookie tray.
Remove the dough from the fridge, use a spoon to scoop out dough for rolling 2-inch balls, place on the tray.
Optional:
If using raw organic cane sugar, place the sugar in a bowl and roll each dough ball through it, coating thoroughly to get that satisfying "granular crunch."
If using coconut sugar, wait until the cookies have been removed from the oven and then sift the sugar over each cookie. This prevents the coconut sugar from dissolving in the oven so they have a satisfying exterior crunch.
Place tray in the oven and bake for 8-11 minutes or until golden but still "soft" looking in the middle. This will allow the cookie to retain its chewiness.
Remove cookies from tray and place on cooling rack. Once cool, store in an airtight container. Bon appetit!