Slow Cooker Banh Mi Sandwiches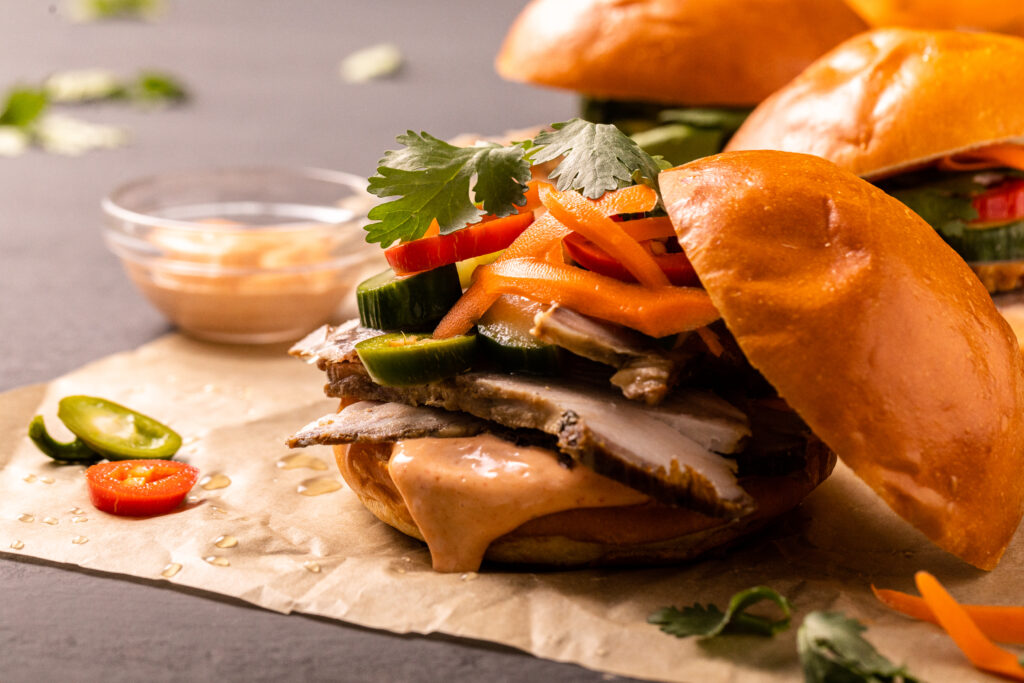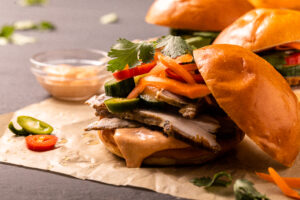 Print
Slow Cooker Banh Mi Sandwiches
Our take on the Vietnamese classic! We swap the baguette for a milk bun from local Rose Street Patisserie for an extra creamy sandwich that's then topped with slow-roasted pork loin, crunchy pickled cukes and carrots, and a tangy sriracha mayo sauce.
Ingredients
For the pork:
2 lb. pork shoulder roast
1 teaspoon kosher salt
½ teaspoon freshly cracked black pepper
1-2 jalapeños, sliced
1-2" piece of ginger, sliced into discs
8-10 garlic cloves, thinly sliced
¼ cup soy sauce
¼ cup apple cider vinegar
¼ cup brown sugar
Stems from one bunch of cilantro (save the leaves)
For the pickled vegetables:
¼ cup apple cider vinegar
½ teaspoon kosher salt
1½ cups thinly sliced carrots, use a vegetable peeler to make thin strips
½ cup daikon radish, thinly sliced
1 jalapeño pepper, thinly sliced
For the mayo sauce:
½ cup mayonnaise
1 scoop Vital Proteins unflavored collagen powder
2 Tablespoons (or more) Sriracha sauce
For the sandwiches:
6 Rose Street Patisserie milk buns
½ English cucumber, thinly sliced
Pickled vegetables
Cilantro leaves
Reserved sauce from pulled pork
1 teaspoon Sriracha sauce (optional)
Instructions
Season the pork with salt and pepper. Into the slow cooker stir together the jalapeño, ginger, garlic, soy sauce, vinegar, cilantro stems, and brown sugar. Nestle the pork shoulder in the liquid. Cover and cook on low for 4 hours or high for 2-3 hours, until the pork is just cooked through, not falling apart. When the pork is cooked, remove from cooker to a cutting board and slice. Strain and reserve the cooking liquid from the cooker, skimming any fat.
Pickled vegetables: In a medium non-reactive bowl, combine the vinegar, and salt and stir until dissolved. Add the carrots, daikon and jalapeño, let it sit for about 30 minutes.
Mayo sauce: Combine the ingredients in a small bowl.
Assemble the sandwiches: Slice the buns in half and spread a layer of mayo sauce on both halves. Top with the sliced pork, cucumber, pickled vegetables, and cilantro. Drizzle with reserved sauce and more sriracha if desired. Close it up and enjoy!