Sirloin Steak with Pesto and Asparagus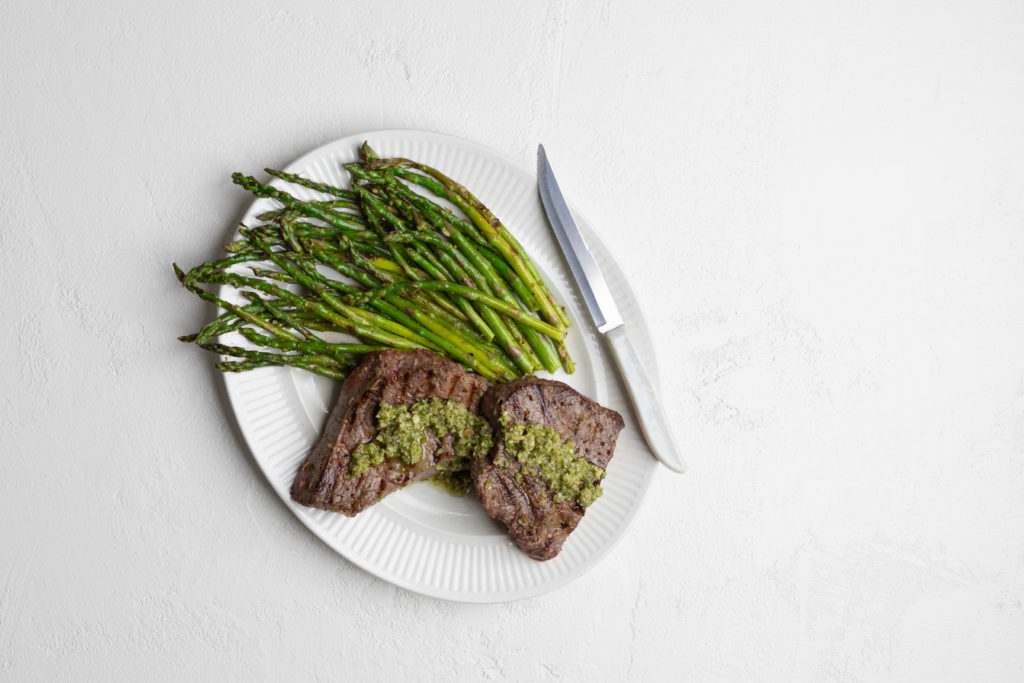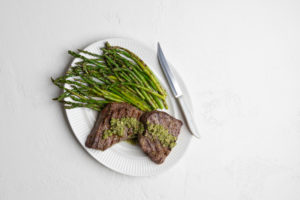 Print
Sirloin Steak with Pesto & Asparagus
Yield 2
Start with local beef sirloin — sustainably raised and full of flavor. Add locally grown garlic scape pesto for zing, and local, organic asparagus. Create a spring dish with the flavor, texture, and yum factor you've waited for all season.
Ingredients
2 top sirloin steaks (about 4ounces each)
1 bunch (about 1 pound) thick asparagus, trimmed
3 Tbsp Escape Garlic Scape Pesto, divided
½ tsp salt
¼ tsp pepper
Instructions
Remove steaks from the refrigerator and bring to room temperature.
Heat gas or charcoal grill to high heat.
In a large bowl, toss asparagus with one tablespoon of the pesto.
Pat steak dry with paper towels, sprinkle with salt and pepper.
Place steak and asparagus on the grill. Cook the steak and asparagus 4 to 5 minutes per side, turning once until a thermometer inserted into the thickest part of the steak registers 125°F for medium-rare or desired doneness and asparagus is crisp-tender.
Rest the steaks on a cutting board 5 minutes before slicing.
Serve steaks and asparagus with additional pesto.
Nutrition Facts
Serving Size 2
Amount Per Serving
% Daily Value
* Percent Daily Values are based on a 2,000 calorie diet. Your daily values may be higher or lower depending on your calorie needs.