Sheet Pan Ginger-Hoisin Pork Tenderloin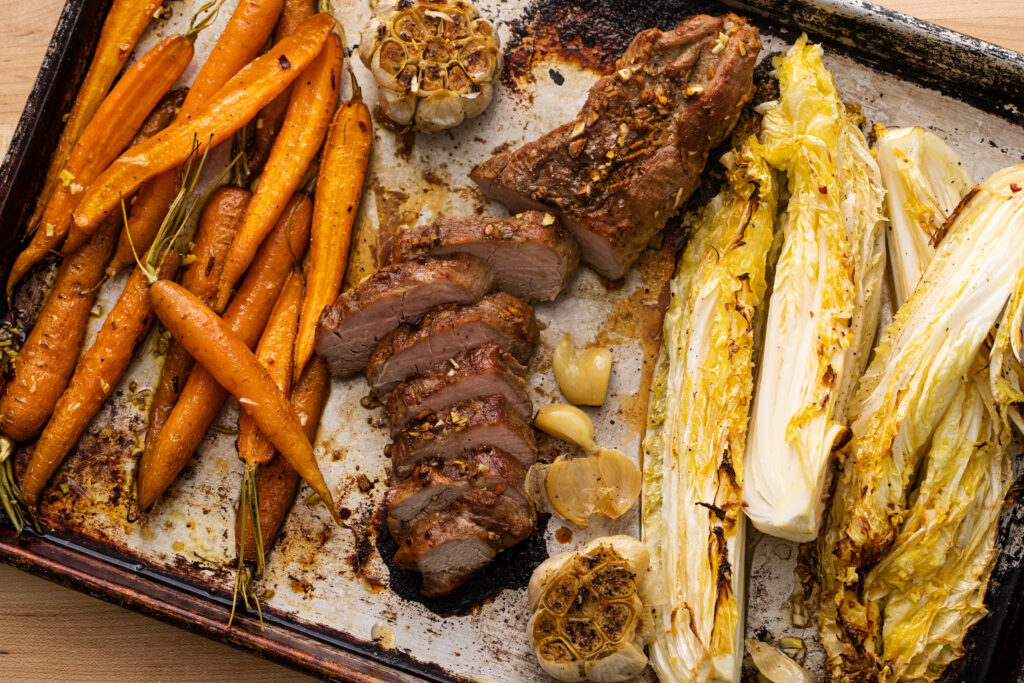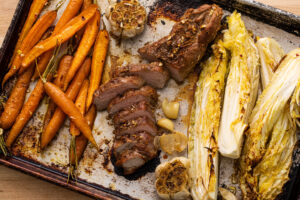 Print
Sheet Pan Ginger-Hoisin Pork Tenderloin
Yield 2-4 servings
There's a reason that sheet pan meals are a hit: They are relatively quick to prep and, with only one pan, a breeze to clean. While it's in the oven, you have a few extra minutes to get things done, be it making tomorrow's lunches or unwinding with a good book. This tenderloin comes together with an easy sauce and honey veggies that need minimal effort, so you get all the flavor, fast.
Ingredients
For the pork:
1 teaspoon kosher salt and fresh cracked black pepper
2 Tablespoons hoisin sauce
2-3 garlic cloves, minced
2 teaspoons ginger (about a 1-by-1-inch piece), grated or minced
1 lb. pork tenderloin, trimmed and well-dried with paper towels
For the honey glaze:
2 Tablespoons honey
1 Tablespoon apple cider vinegar
¼ tsp red pepper flakes, optional
1 teaspoon fresh garlic, minced
1 teaspoon fresh ginger, minced
For the vegetables:
2 Tablespoons olive oil
1 lb. carrots, cut into ½-by-2-inch pieces
1 lb. Napa cabbage, core intact, cut into quarters lengthwise
1 teaspoon Kosher salt and fresh cracked black pepper
Instructions
Combine the marinade ingredients in a large bowl and add the pork. Cover and refrigerate for 1 to 4 hours.
Thirty minutes before cooking, remove from the fridge and preheat the oven to 400°. Remove the tenderloin from the marinade, shaking off excess. Whisk the glaze ingredients together in a small bowl, then set aside.
Place the carrots on one side of the baking sheet and the cabbage on the other side, leaving a gap between. Drizzle each side with 1 Tablespoon olive oil and the kosher salt and gently toss to combine, keeping the vegetables separate.
Place the tenderloin between the vegetables, put pan in the oven, and roast for 15 minutes. Remove from the oven, turn the pork over, and toss the carrots and cabbage with the honey glaze. Return to the oven for another 10-15 minutes. Remove the pork from the pan when the internal temp reaches 140°. Allow the pork to rest for 10 minutes while the vegetables finish roasting. They should be tender and a bit charred.