Shakshuka Naan Breakfast Sandwiches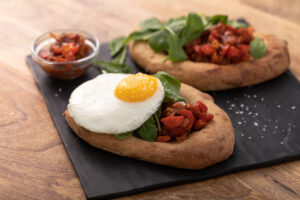 Print
Shakshuka Naan Breakfast Sandwich
Yield 4 sandwiches
Shakshuka is a popular North African dish made from tomatoes, red pepper, and garlic stewed in aromatic spices and topped with eggs. Serve it over toasted naan bread for a breakfast sandwich you'll want to make again and again.
Ingredients
4 The Marvel Kernza® naan, toasted
4 eggs, fried
½ Tablespoon olive oil
1 small white onion, diced
1 small red pepper, diced
2 small cloves garlic, minced
1 teaspoon salt
½ teaspoon freshly ground black pepper
½ teaspoon cumin
½ teaspoon paprika
¼ teaspoon cayenne
¼ teaspoon chili powder
1 14-oz. can chopped tomatoes
½ cup watercress, for garnish
Instructions
Preheat oven to 375°.
Heat the olive oil in a large cast iron skillet over medium-high heat. Once oil is shimmering, add onion and cook until softened, about 5 minutes. Add the bell pepper and cook for an additional 5 minutes. Add the garlic, salt, pepper, cumin, paprika, cayenne, and chili powder and mix until veggies are coated. Cook for 2 to 3 minutes until fragrant, stirring frequently. Stir in the tomatoes, scraping any bits from the bottom of the pan. Bring to a simmer and cook until reduced, about 10 minutes.
Once the mixture achieves a salsa-like consistency, remove from the heat. Spoon over naan, top with fried egg, garnish with watercress, and serve.