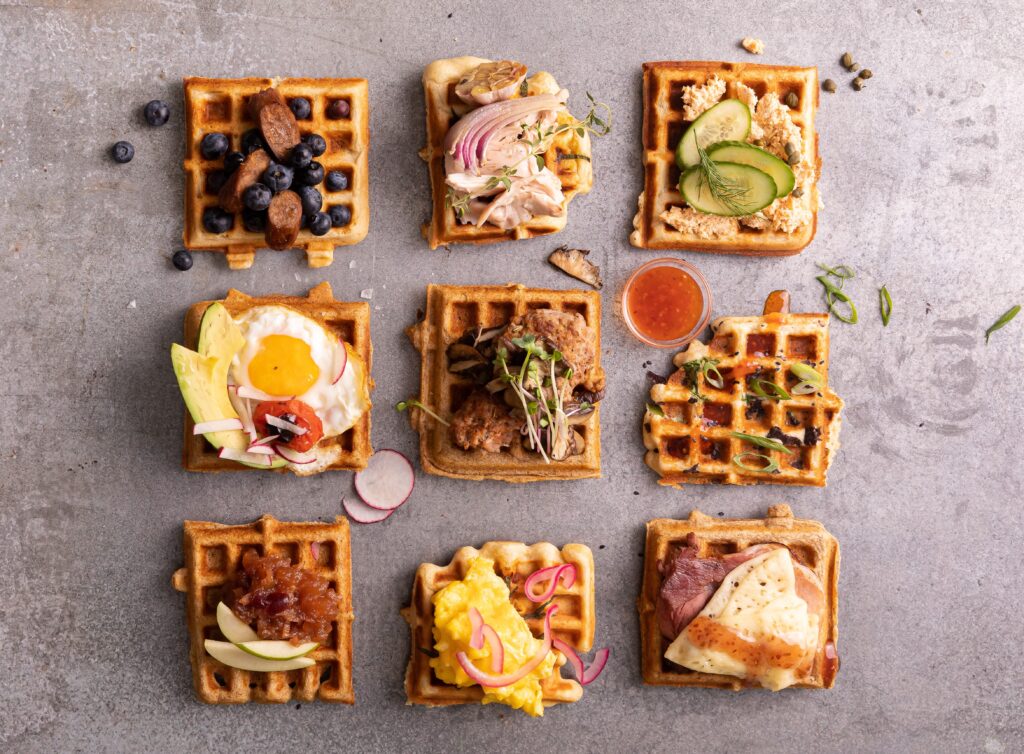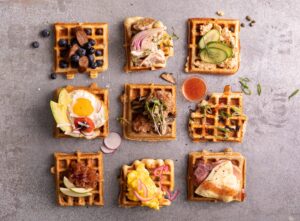 Print
Savory Kernza® Waffles
Yield 8-10 waffles
Made from soil-rebuilding Kernza® perennial wheatgrass flour, these pancakes are fluffy and satisfying, perfect for building a bold and unforgettable breakfast. The options for toppings are limitless. Here are just a few ideas:
Sautéed mushrooms, Italian sausage, and microgreens.
Sunny side up egg, avocado, radish slices, and pan-roasted cherry tomatoes.
Smoked salmon spread, capers, and cucumber slices.
Deli ham, lacy Swiss chees, and a drizzle of your favorite jam.
Ingredients
¼ cup salted butter
2 cups Kernza® flour
½ cup all-purpose flour
¼ cup cornstarch
1 Tablespoon brown sugar
2 teaspoons kosher salt
2 teaspoons baking powder
½ teaspoon baking soda
1½ cups buttermilk
2 eggs, separated
Instructions
Melt the butter on the stove or in the microwave, then let cool slightly. In a large mixing bowl, combine the flours, cornstarch, brown sugar, salt, baking powder, and baking soda. Mix until combined.
In a separate bowl, whisk the buttermilk, butter, and egg yolks. With a handheld mixer or whisk, whip the egg whites until soft peaks form. Add buttermilk mixture to the dry mixed ingredients and stir with a rubber spatula until thoroughly combined. Gently fold the whipped egg whites into the mixture, taking care not to over mix.
Let the batter sit for about 15 minutes while you heat the waffle iron (leave it closed while it heats). Once heated, spray the waffle iron with a thin layer of oil. Pour ¼ cup of batter (or the amount recommended by the manufacturer) and cook for 4-5 minutes. Waffles are fully cooked when they stop steaming.
Serve immediately or place on a wire rack in a 200° oven to keep warm and crispy.