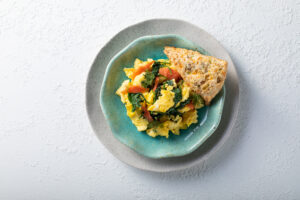 Print
Salmon Spinach Scramble
Delicious and full of protein, the time-honored egg scramble is a simple and satisfying way to kick off a weekend. This version has spinach, smoked salmon, fresh dill, and crème fraiche for extra flavor and creaminess. It comes together quickly, so you can sleep in and still get your brunch on.
Ingredients
2 cups fresh spinach
1 Tablespoon water
8 eggs
2 Tablespoons butter, divided
2 Tablespoons crème fraiche, plus more for serving
Salt and pepper to taste
2 Tablespoons fresh dill
4 oz. smoked salmon, shredded into bite-size pieces
Instructions
Heat a skillet over medium-low heat. Add fresh spinach and 1 Tablespoon of water, cover, and gently cook until the spinach wilts. Set aside. In a medium bowl, whisk 8 eggs. Add 1 Tablespoon of butter to the skillet. Once it melts, add the eggs. Occasionally, lightly stir the eggs with a plastic spatula, scraping the bottom of the pan as they cook. When the eggs are almost done to your liking, add the other Tablespoon of butter and mix in as it melts. Add in the crème fraiche and salt and pepper to taste. Then add the spinach, fresh dill, and salmon, stir gently until combined, and remove from heat. Serve with a dollop of crème fraiche.