Root Vegetable Ratatouille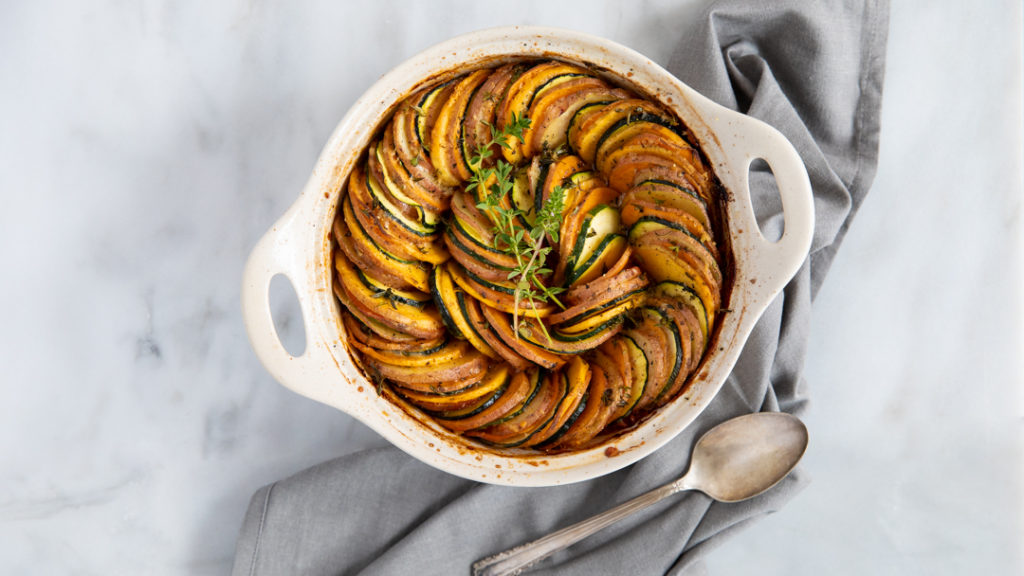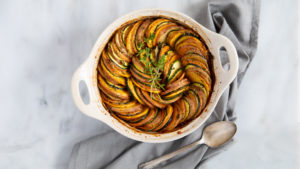 Print
Root Vegetable Ratatouille
Ingredients
2 teaspoons olive oil
3 medium tomatoes, seeded, chopped
1 medium onion, chopped
3 garlic cloves, finely chopped
2 tablespoons tomato paste
2 teaspoons fresh thyme leaves
1 teaspoon salt
Pinch red pepper flakes
1 rutabaga, very thinly sliced
1 sweet potato, very thinly sliced
1 medium zucchini, very thinly sliced
2 small red potatoes, very thinly sliced
1/2 cup freshly grated Parmesan cheese
2 tablespoons butter, melted
2 teaspoons fresh thyme
1/2 teaspoon salt
1/4 teaspoon black pepper
Instructions
Heat oven to 400ºF. Lightly grease a 2-quart round baking dish; set aside.
In a 12-inch skillet, heat the olive oil over medium heat. Add the tomatoes, onions and garlic. Cook 6 to 8 minutes, stirring frequently, until the onion is tender. Stir in tomato paste, thyme, salt and red pepper.
Spoon and spread the cooked tomato and onion mixture evenly into the bottom of the prepared baking dish.
In a large bowl, toss the rutabaga, sweet potato, zucchini and red potato slices with the parmesan, butter, thyme, salt and pepper to coat. Place the sliced vegetables in the baking dish on top of the tomato mixture alternating the vegetables in a circular pattern.
Bake 35 to 45 minutes, until the vegetables are fork tender and golden brown. Serve warm.