Roasted Root Vegetable Soup
Photo credit: Mette Nielsen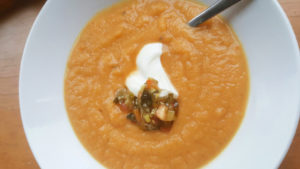 Print
Roasted Root Vegetable Soup
Yield 4
This healthy blended soup takes advantage of quick grab-and-go root vegetables and simple cooking methods–just roast, combine, simmer and then blend for a polished meal packed full of nutrients. It is delicious warm at the table with toppings or on-the-go in a sippable thermos or insulated bottle. We are huge fans of treating it like healthy fondue and dipping anything in sight–spoons, whole wheat breads, multi-grain crackers, protein on a fork or cheese on sticks.
Ingredients
3 pounds of root vegetables like parsnips, carrots, rutabagas, turnips, and celeriac, peeled and cut into 1-inch pieces
2 Tablespoons olive oil
1 teaspoon each salt and pepper
1 teaspoon dried thyme
1 quart chicken or vegetable broth
1 quart water
1 cup Greek yogurt
Bold, saucy condiment such as chimichurri or salsa
Instructions
Toss vegetable soup mix, olive oil, salt, pepper and thyme together and roast on a sheet pan in a 375°F oven for 35-45 minutes.
Add broth, water, wine and roasted vegetables to a large soup pot.  Bring to a simmer and add additional flavors (salt, pepper, onion or garlic powder, etc.) if desired.
Simmer until vegetables are very tender. Cool slightly and blend soup in a blender or with an immersion blender.  Return to pot and check seasoning.
Serve with a swirl of Greek yogurt and a spoonful of chimichurri, hot sauce, or salsa.