Roasted Carrot and Parsnip Soup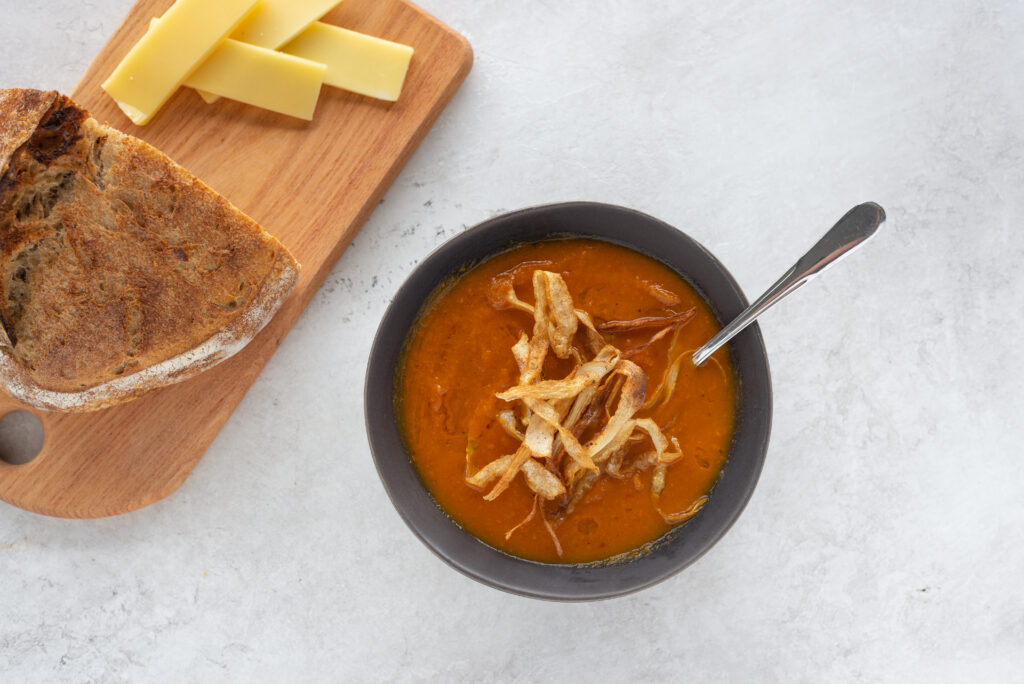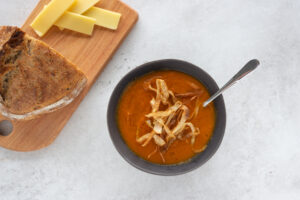 Print
Roasted Carrot and Parsnip Soup
Autumn is the time for comfort foods and in-season root vegetables. Get the best of both with this soothing, nourishing soup featuring a rich blend of roasted carrots, parsnips, and the flavors of chipotle and hazelnut.
Ingredients
1½ lb. carrots, ends trimmed, cut in ½" x 3-5" sticks
2-3 additional carrots for making chips
½ lb. parsnips, ends trimmed, peeled and cut in ½" x 3-5" sticks
¾ lb. onion (one large), peeled and cut into 8 wedges
6 cloves garlic, peel left on
2-3 Tablespoon olive oil
1½ teaspoons kosher salt
1-2 Tablespoons canned chipotle peppers in adobo sauce
5-6 cups chicken or vegetable stock
1 Tablespoon raw, unfiltered apple cider vinegar
2 Tablespoons tamari pepitas
2 Tablespoons aromatic oil such as hazelnut or walnut
sourdough bread slices, toasted
Gruyere slices
Instructions
Preheat oven to 425°. On a baking sheet pan, add the carrots, parsnips, onion wedges and garlic, and toss with oil and kosher salt. Pile the garlic cloves nestled in the center of the vegetables so they won't burn.
Place on middle rack of oven and roast for 40-45 minutes, tossing occasionally, until vegetables are tender and a bit browned or charred on the edges.
Slip the skins off the garlic, then add it, the roasted vegetables, and the chipotle to a blender. Puree, adding stock if necessary (1-2 Tablespoons at a time) until smooth. Add this mixture, the rest of the stock, and vinegar to a large saucepan to reheat, stirring occasionally. Season with salt and pepper to taste.
Ladle into bowls, drizzle with oil, and sprinkle with pepitas and Fried Carrot Chips (see recipe).
Serve with toasted bread and cheese.
Carrot Chips
Heat ¼-inch oil in a cast iron (or other heavy) skillet. Using a vegetable peeler, peel thin strips of carrot, turning the carrot after every few shaves.
Pat dry on a paper towel, then carefully lower strips into the hot oil. Fry for 2-3 minutes until golden. Remove with  slotted spoon to a paper towel-lined plate and sprinkle with salt and pepper.