Roast Turkey with Herbs and Ghee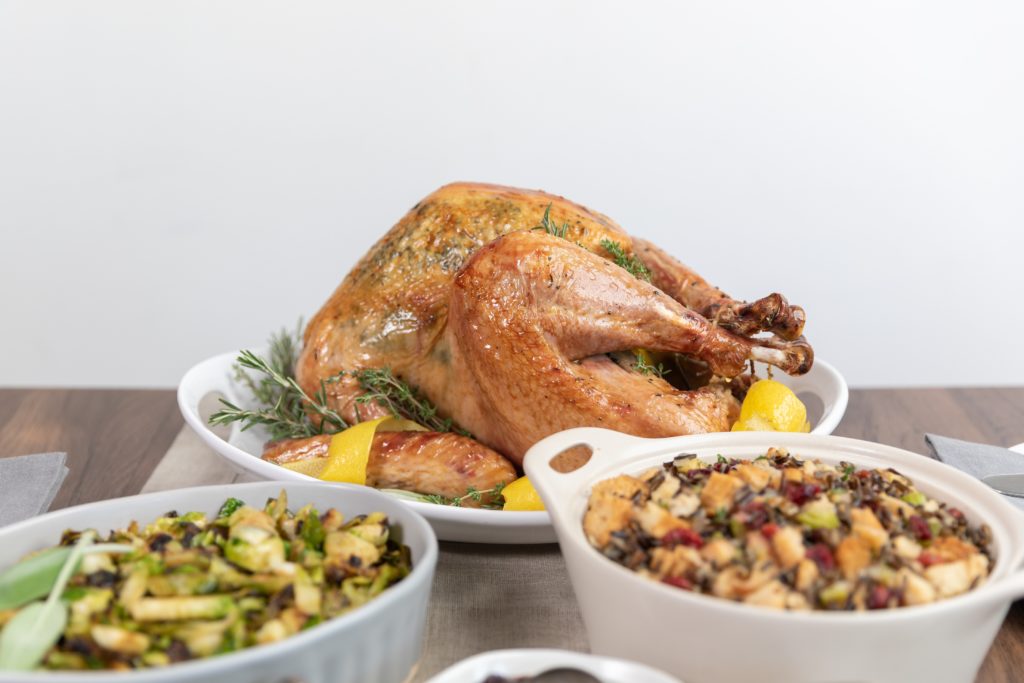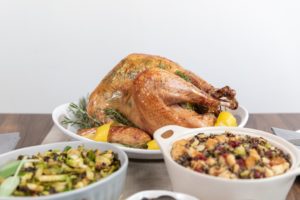 Print
Roast Turkey with Herbs and Ghee
Yield 12 servings
This easy, herb-seasoned turkey is perfectly tender, juicy and delicious—a holiday crowd pleaser!
Ingredients
5 tablespoons Wholly Cow ghee, melted
1 tablespoon each chopped fresh rosemary, sage, and thyme
1 teaspoon Kosher salt 
1/2 teaspoon freshly ground pepper
1 whole (10 to 12 pound) turkey, thawed
2 medium lemons, quartered
1 head garlic, halved
1 sprig each, rosemary, sage, and thyme
Instructions
Heat oven to 325°F. In a small bowl, mix the ghee with the chopped rosemary, sage, thyme, salt, and pepper.
Place turkey on a rack in a large roasting pan. Remove ovenproof plastic leg band, if present. Discard giblets and neck or reserve for another use. Using paper towels, pat dry skin and interior cavity. 
Working from the neck end, slide fingers under the skin until you reach the end of the breast, being careful not to tear the skin; rub 4 tablespoons of the herb ghee under the skin. Fill the body cavity with cut-up lemon, garlic, and sprigs of rosemary, sage, and thyme.
Fold wings across back of turkey so tips are touching. Tie the drumsticks together with baker's twine. Brush with remaining 1 tablespoon melted ghee and herb mixture.
Bake turkey in the center of the oven 2 hours. when it begins to turn golden brown, cut the twine holding the drumsticks together so the thighs will cook through. Place a tent of aluminum foil loosely over the turkey.
Bake an additional 45 minutes to 1 hour, until an instant-read thermometer inserted into the thickest part of thigh (avoiding bone) registers 165°F.
When the turkey is done, remove from the oven and let stand for 15 minutes before carving. Cover with foil to keep warm.