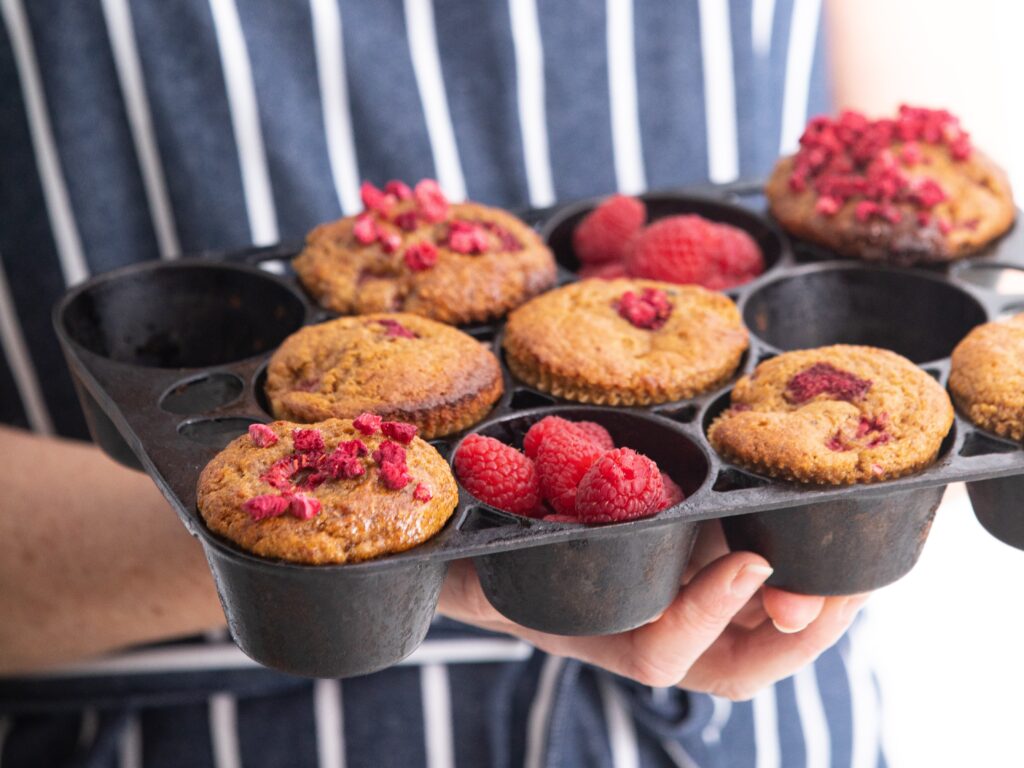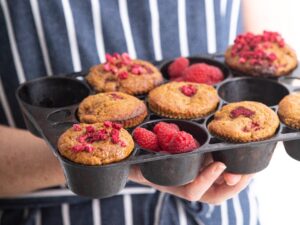 Print
Raspberry Orange Muffins
Bright citrus meets sweet berries in our recipe for orange raspberry muffins. Infused with tea, these hearty muffins have depth of flavor not often found in breakfast baked goods.
Ingredients
1 cup Kernza® flour
1 cup all-purpose flour
½ cup coconut sugar
2 teaspoons baking powder
½ teaspoon kosher salt (or ¼ teaspoon table salt)
¼ teaspoon baking soda
¾ cup buttermilk
⅓ cup Enchanted Garden honey
¼ cup unsalted butter, melted
2 large eggs
1 teaspoon vanilla extract
1 teaspoon tea leaves
Zest of 1 orange
1 6-oz. container fresh raspberries, tossed with 1 teaspoon Kernza flour
Topping
2 Tablespoons honey
1 Tablespoon orange juice
⅓ cup freeze-dried raspberries, crushed
Instructions
Preheat oven to 400°. Line a 12-cup standard muffin tin with paper liners and set aside.
In a large bowl, combine flours, sugar, baking powder, salt, and baking soda. In another bowl, whisk together the buttermilk, honey, butter, eggs, vanilla, tea, and orange zest. Pour over dry ingredients and stir using a rubber spatula until just combined. Add the fresh raspberries and gently mix.
Place ¼ cup scoops of the batter evenly into each muffin cup. Bake for 20-25 minutes, until a tester inserted in the center comes out clean. Remove from oven and cool completely on a wire rack.
For the topping:
Combine the honey and juice in a small bowl. Dip the cooled muffin in honey and then sprinkle with dried raspberries.