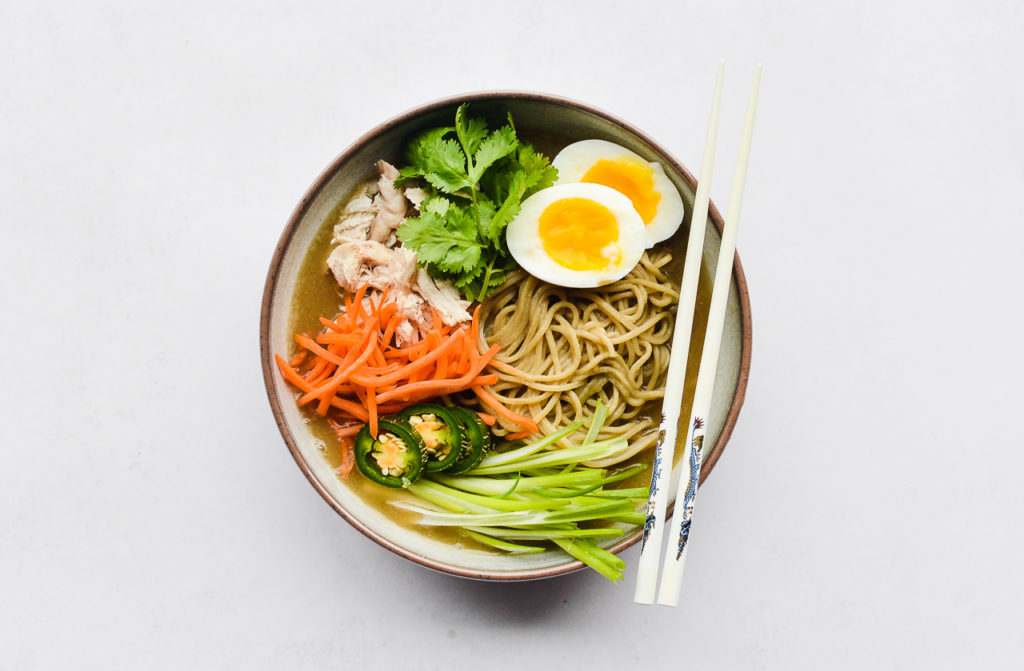 Throw out those flavor packets . . . instant noodles have nothing on this beloved traditional soup. Ramen should be savory, fresh, cozy and satisfying: a wholesome broth paired with a sturdy rice noodle, protein, fresh veggies, seasonings, and sauces. Ditch the Styrofoam cup and make your own at home.
Ramen Done Right
Ingredients
1 quart chicken broth
1 pack ramen
Shredded chicken
Shredded carrots
Chopped scallions
2 soft-boiled eggs
Fresh cilantro
Toasted sesame oil
Tamari or soy sauce
Hot sauce
Instructions
Bring broth to a simmer in a medium pot. Add ramen and cook, gently separating threads, until just tender. Divide ramen and broth into two bowls. Season to taste with sesame oil, tamari, and hot sauce. Top with chicken, carrots, scallions, halved eggs, and cilantro.
Perfect Ramen Egg
Bring water to a boil. Add eggs. Cook for exactly 6 minutes and 30 seconds. Remove and cool with cold water. Peel and slice eggs in half for a glorious finishing touch.