Pistachio Crusted Salmon with Wilted Greens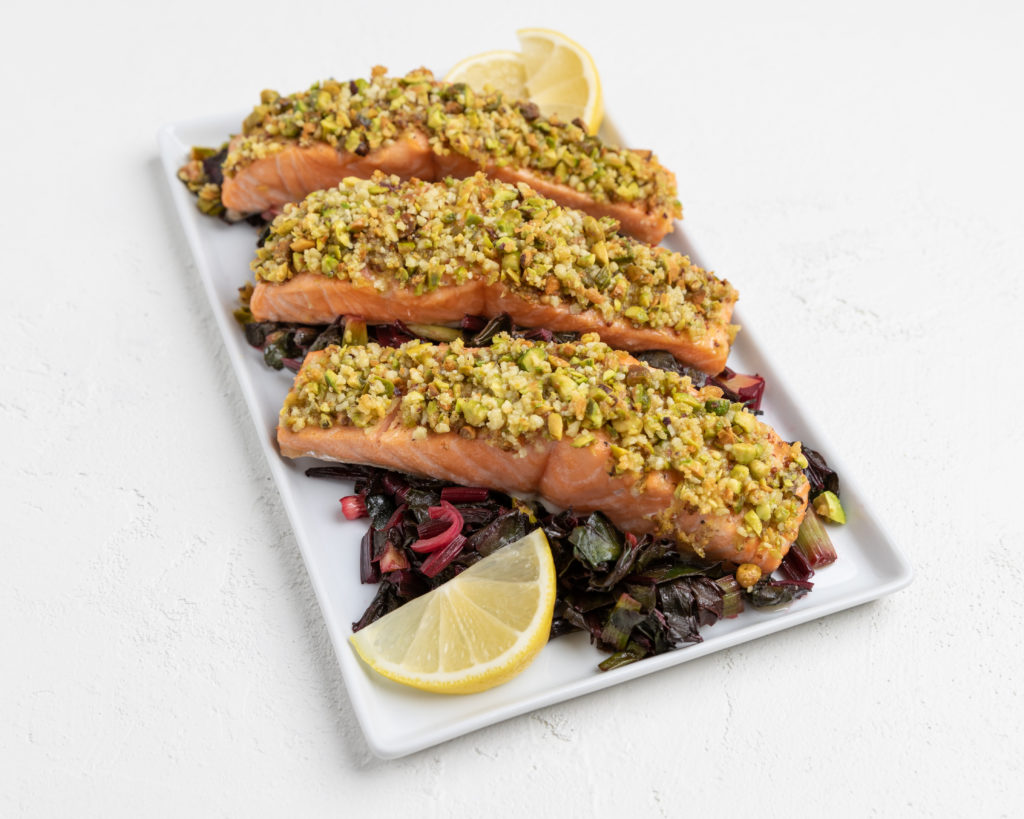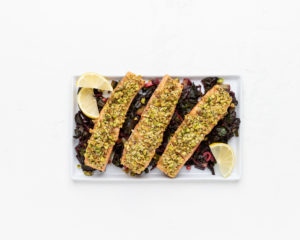 Print
Pistachio Crusted Salmon with Wilted Greens
Yield 4 servings
Fresh salmon fillets and flavorful beet greens make for a great light dinner option. Topped with a mixture of mustard, lemon zest, crunchy pistachio, and panko crumbs, it might just become a go-to favorite!
Ingredients
For the Pistachio Crusted Salmon:
¼ cup shelled roasted, salted pistachios, finely chopped
¼ cup gluten-free panko bread crumbs
2 Tablespoons olive oil, divided
1 Tablespoon lemon zest
1 Tablespoon coarse ground mustard
½ teaspoon salt 
¼ teaspoon pepper
4 (6 ounces each) salmon fillets
Lemon wedges for serving
For the Wilted Greens:
2 Tablespoons olive oil
2 bunches beet greens, cut into bite-sized pieces
1 bunch spring onions, cut into bite-sized pieces
1 Tablespoon cider vinegar
Instructions
Heat oven to 375°F. In a small bowl, stir together pistachios, bread crumbs, and 1 tablespoon of the olive oil until evenly combined; set aside.
In another small bowl, mix together the remaining 1 Tablespoon olive oil, lemon zest, mustard, salt, and pepper.
Place salmon fillets skin side down on parchment paper-lined or lightly oiled baking sheet. Gently spoon and spread the mustard mixture over the tops of the salmon fillets. Sprinkle the pistachio mixture over the mustard and press onto salmon.
Bake 10 to 14 minutes or until salmon flakes easily with a fork.
Meanwhile, in a large skillet, heat the olive oil over medium heat. Add the beet greens and spring onions and cook, 4 to 6 minutes stirring occasionally until the greens are wilted.
Add the vinegar, toss to coat and cook an additional 1 minute. Serve salmon over wilted greens with a lemon wedge if desired.