One-Pot Sweet Potato and Kale Stew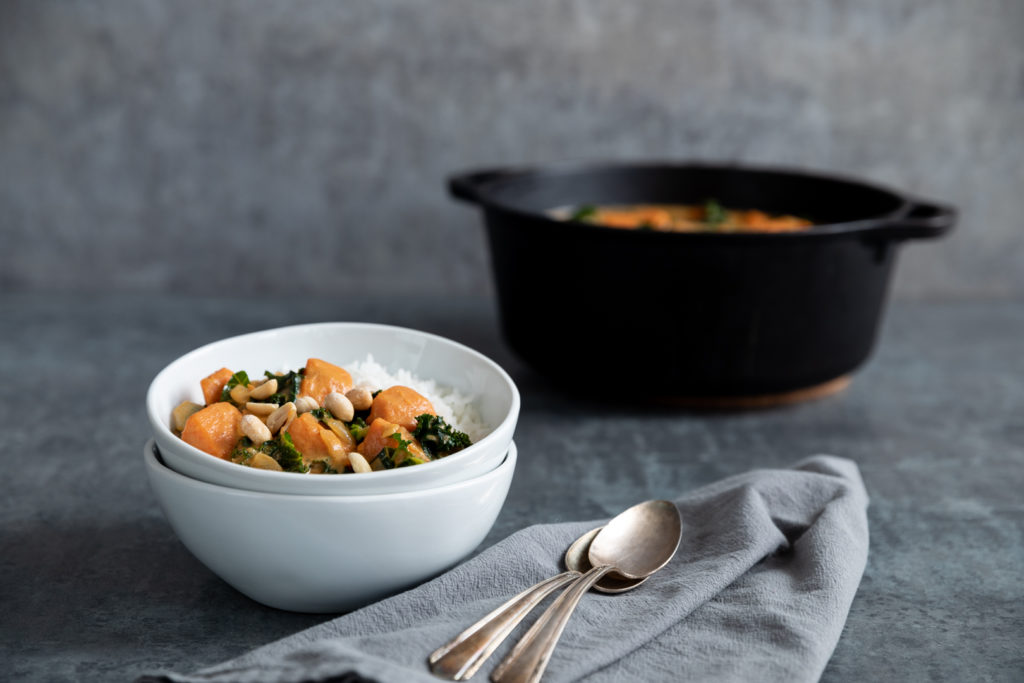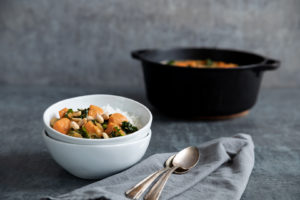 Print
One-Pot Sweet Potato and Kale Stew
Yield 6 servings
Make quick work of dinner with this flavorful one-pot stew packed with sweet potatoes and kale. Serve it with rice, peanuts, cilantro, and a lime wedge for a hearty vegetarian dish that's even better the next day!
Ingredients
1 tablespoon olive oil
1 onion, chopped
½ cup Thai style curry sauce
2 large sweet potatoes, peeled and cut into 1-inch cubes
⅔ cup creamy peanut butter
4 cups vegetable broth
½ teaspoon salt
4 cups roughly chopped kale
Cooked rice, for serving
Fresh cilantro, roasted peanuts, and lime wedges, if desired
Instructions
In a 5-quart Dutch oven, heat oil over medium heat. Add onions, cook 4 to 6 minutes, stirring occasionally, until softened. Stir in the curry sauce, cook stirring constantly for 1 minute.
Add the sweet potatoes, peanut butter, broth, and salt. Heat to boiling. Reduce heat to medium-low; simmer 18 to 20 minutes stirring occasionally or until the sweet potatoes are tender. Add the chopped kale and cook an additional 10 minutes or until the kale is wilted.
Serve over rice and garnish with cilantro, peanuts and lime wedge.
Notes
You may use green, yellow, or red Thai curry for this recipe. You may also use Indian style curry sauce if you prefer.