One-Pot Braised Pork Shoulder with Apples and Parsnips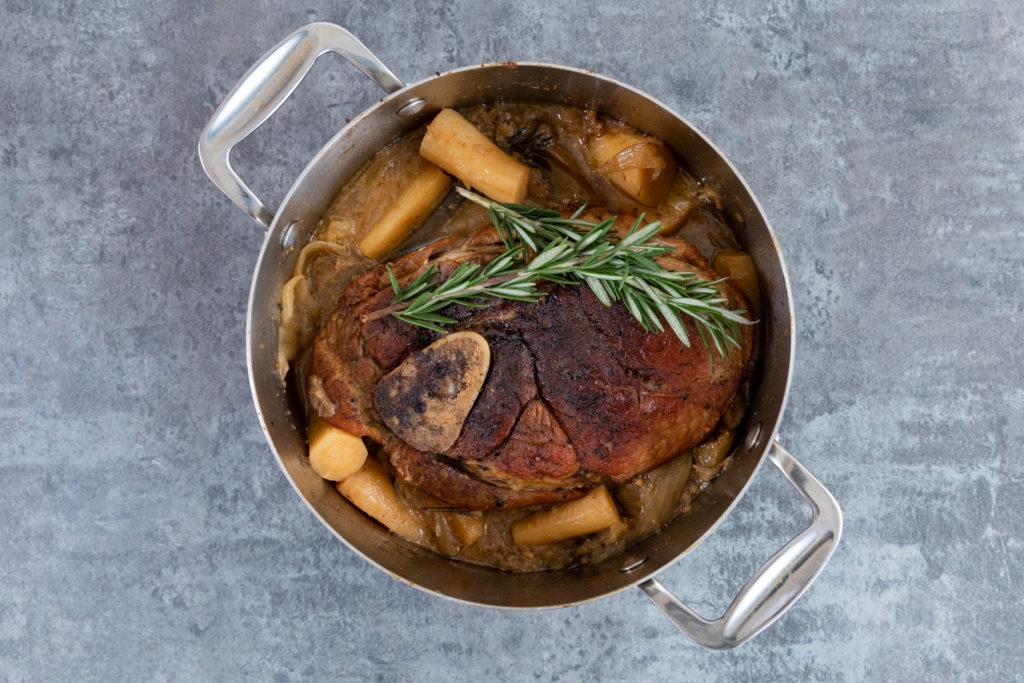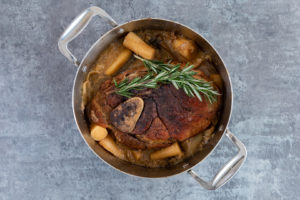 Print
One-Pot Braised Pork Shoulder with Apples and Parsnips
Yield 4 servings
This rich, comforting one-pot meal is the perfect hearty dish for a cold winter night. The onions, sweet apples and earthy parsnips cook together into a flavorful confit to serve with this tender pork shoulder.
Ingredients
2 1/2 pounds bone-in pork shoulder, trimmed
1/2 teaspoon coarse Kosher salt
1/4 teaspoon pepper
2 tablespoons olive oil
2 large yellow onions, cut into wedges
1 cup chicken or beef stock
1/3 cup Clover Valley Garlic Infused Rhubarb Vinegar
2 tablespoons Clover Valley Rhubarb-Rosemary Honey Mustard
3 large parsnips, peeled, cut into 2-inch pieces
2 Granny Smith apples, unpeeled, each cut into 6 wedges
2 sprigs rosemary
Additional Clover Valley Rhubarb-Rosemary Honey Mustard for serving, if desired
Instructions
Heat the oven to 325°F.
Pat the pork shoulder dry with a paper towel and season with salt and pepper. In a large oven-proof pot or Dutch oven with a lid, heat the oil over medium-high heat. Brown the pork shoulder on all sides. Remove from the pot; set aside.
Drain all but 1 tablespoon of the fat from the pork shoulder. Reduce the heat to medium, add the onions. Cook 4 to 6 minutes, turning frequently until browned.
In a 2-cup glass liquid measuring cup, stir together the chicken stock, rhubarb vinegar and honey mustard. Add stock mixture to the onions.
Add the parsnips, apples and rosemary. Bring to simmer. Return the pork to the Dutch oven, nestling it into the onions, parsnips, and apples. Cover the Dutch oven with a lid and transfer to the oven.
Bake covered 2 1/2 to 3 1/2 hours or until the pork is very tender. Serve the pork with the onion, parsnip, and apple confit and additional mustard, if desired.