Mushroom, Arugula and Tomato Baked Eggs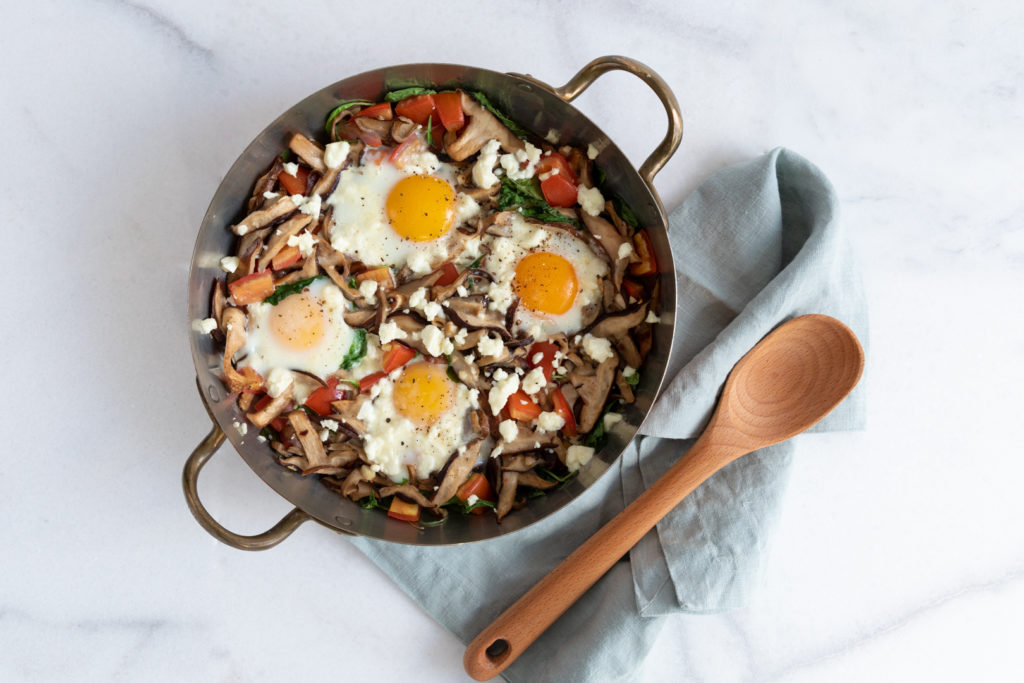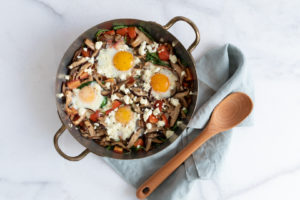 Print
Mushroom, Arugula and Tomato Baked Eggs
Yield 4 servings
A great weekend breakfast with sauteed mushrooms, arugula, and tomatoes layered in a baking dish with eggs, and feta cheese. Serve it with crusty bread for a hearty meal!
Ingredients
2 Tablespoons butter
7 oz. shiitake mushrooms, sliced
½ teaspoon salt
Pinch red pepper flakes
2 cloves garlic, finely chopped
2 oz. arugula
3 tomatoes, seeded and chopped
4 large eggs
⅓ cup crumbled feta
4 Tablespoons heavy cream
Crusty French bread, for serving
Instructions
Heat oven to 325°F.
In a medium skillet, melt the butter over medium-high heat. Add sliced mushrooms, salt and red pepper flakes. Cook 5 to 7 minutes, stirring frequently or until mushrooms are tender. Stir in garlic and cook an additional 1 minute, stirring frequently until fragrant. Remove from the heat and set aside.
Lightly grease a 1-quart baking dish or ovenproof skillet with olive oil. Layer the arugula, chopped tomatoes and cooked mushroom mixture in the baking dish.
With the back of a spoon, make 4 slight indents in the mushroom mixture. Carefully crack eggs over the mushroom mixture into the indents. Top with the crumbled feta. Slowly pour 1 tablespoon of the heavy cream over each of the eggs and season with additional salt and pepper, if desired.
Bake 18 to 25 minutes, rotating the baking dish halfway through baking until egg whites are set but yolks are still runny. Serve warm with crusty French bread, if desired.