Mostly Made Bolognese with Zoodles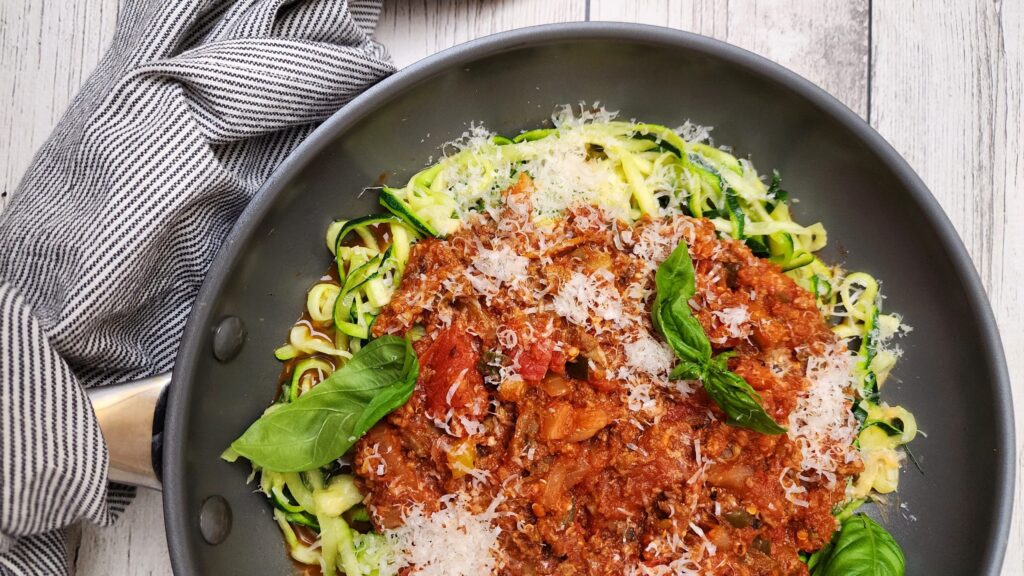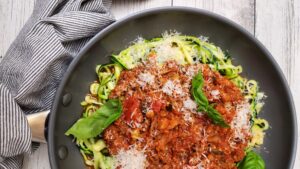 Print
Mostly Made Bolognese with Zoodles
Yield 2-4 servings
Mostly Made's flavorful Skillet Lasagna Mix is made with savory turkey sausage, fresh tomatoes, basil, mushrooms, zucchini, peppers, and onions. We enjoy the Skillet Lasagna Mix with pasta as suggested, but also love it as a Bolognese with zucchini noodles — lightly sautéed with a little olive oil and topped with freshly grated Parmesan. It's hearty and delicious, and takes just minutes to put together!
Ingredients
1 package Mostly Made Skillet Lasagna Mix, thawed if frozen
2 Tablespoons olive oil
2 medium (or 4 small) zucchini, spiralized or cut into thin strips
¼ cup Parmesan cheese, freshly grated
Fresh basil or Italian parsley for garnish
Instructions
In a 10" skillet, heat Skillet Lasagna Mix according to package directions. Spiralize the zucchini and set aside. When mix is heated through, place in a heat-safe bowl, cover to keep warm, and set aside. Using the same skillet, heat olive oil over medium heat. Add spiralized zucchini and sauté for 5 - 7 minutes, until al dente. Pour the warmed Skillet Lasagna Mix over the cooked zucchini noodles. Top with freshly grated Parmesan and fresh herbs, and serve immediately. Any leftovers can be covered and refrigerated for up to two days.