Moroccan Braised Beef with Couscous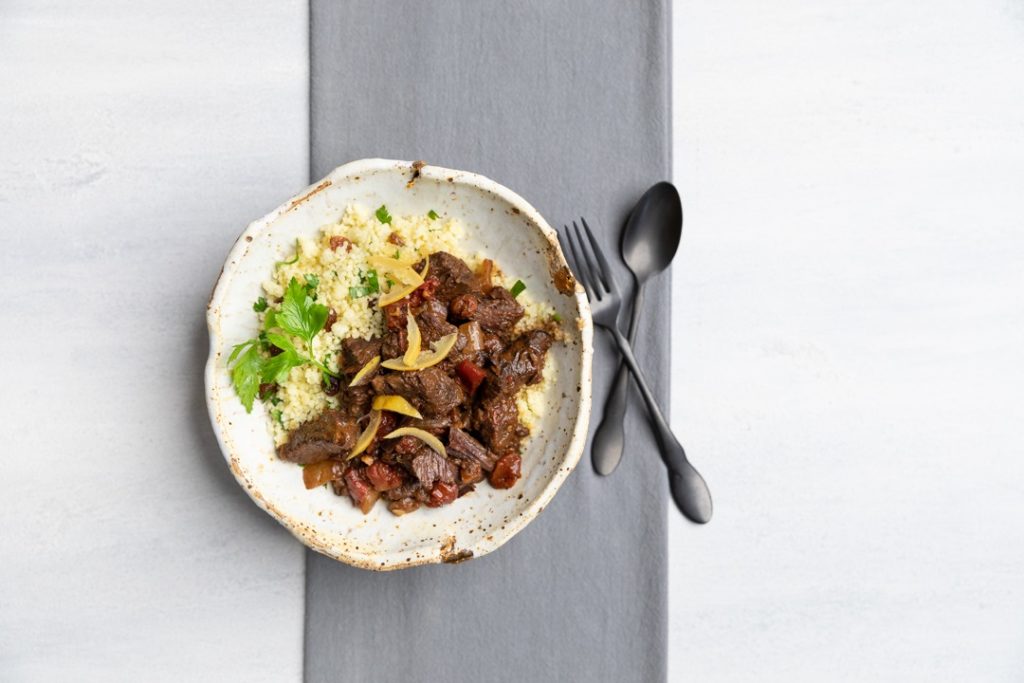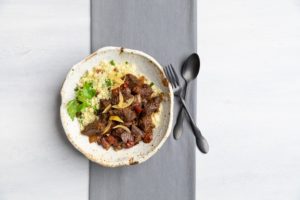 Print
Moroccan Braised Beef with Couscous
Yield 6 servings
This Moroccan slow-cooked beef is a hearty and flavorful winter dish warmed with global flavors such as garam masala and turmeric.
Ingredients
2 Tablespoons olive oil
2½ pounds beef chuck roast, trimmed of excess fat, cut into 1 to 1½-inch cubes
1 14 oz. can diced fire-roasted tomatoes in juice
½ cup dry red wine
½ cup beef broth
1 cup golden raisins, divided
1 medium onion, chopped
3 cloves garlic, finely chopped
4 teaspoons garam masala
1 Tablespoon paprika
1 teaspoon ground cumin
¼ teaspoon turmeric
½ teaspoon red pepper flakes
1½ cups uncooked couscous
¼ cup chopped fresh parsley
½ cup thinly sliced preserved lemons
Instructions
In a large Dutch oven, heat oil over high heat. Pat beef dry with paper towels, and season with a pinch of salt and pepper. Place beef in Dutch oven, working in batches if necessary as to not overcrowd and cook 4 to 6 minutes, searing all sides of beef.
Transfer browned meat to slow cooker, add tomatoes, wine, beef broth, ½ cup of the raisins, onion, garlic, garam masala, paprika, cumin, turmeric, and red pepper flakes. Stir to combine ingredients.
Cover and cook on low heat 8 hours or high heat 4 to 5 hours until beef is very tender.
When ready to serve, cook couscous as directed on the label, adding in remaining ½ cup raisins while bringing the water to boil. Fluff the cooked couscous and fold in chopped parsley.
Divide the couscous and beef among bowls and garnish with preserved lemons.