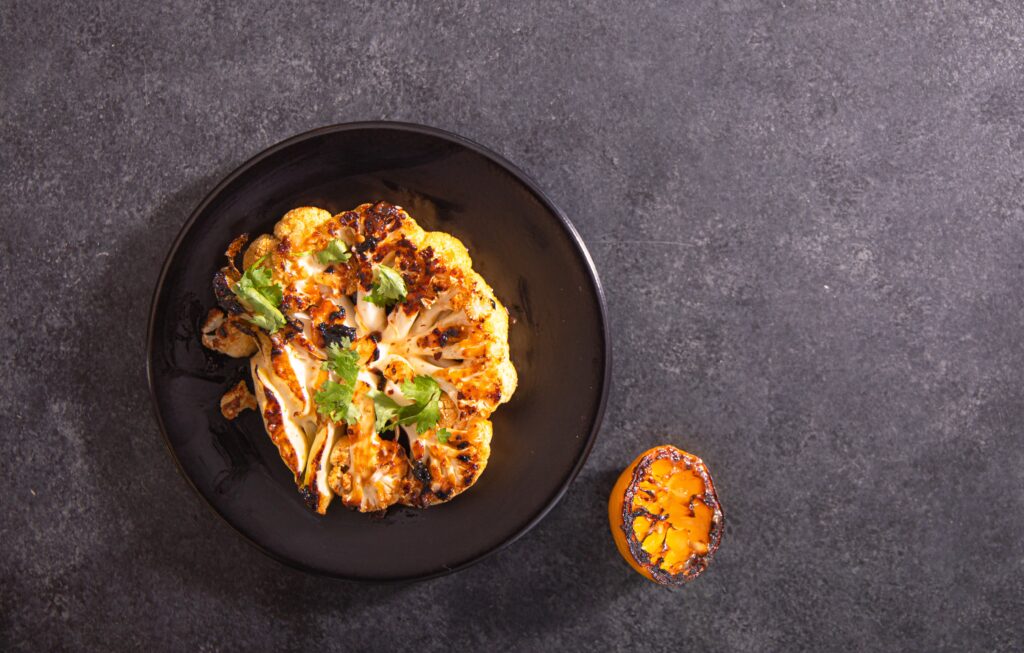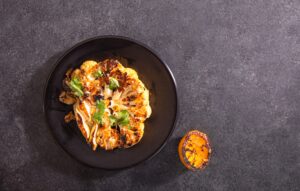 Print
Miso Cauliflower Steaks
There's a reason people love cauliflower: Not only is it full of fiber, vitamins, and antioxidants, it's a versatile base for absorbing the flavors you're craving. This recipe starts with a sweet, tangy, slightly spicy marinade made from miso that adds the perfect touch of umami.
Ingredients
2½ pounds of cauliflower (roughly 2 large heads)*
2 Tablespoon white or yellow miso paste
1 Tablespoon toasted sesame oil
1 Tablespoon rice vinegar
2 Tablespoon garlic chili sauce or paste
1 teaspoon soy sauce or tamari
3 cloves garlic, finely minced to a paste
1 Tablespoon vegetable oil, plus more if needed
2 lemons, halved
2-3 green onions or chives, thinly sliced
Sriracha to taste
Instructions
Preheat oven to 400°. In a small bowl, whisk together miso, sesame oil, rice vinegar, sweet garlic chili sauce, sriracha (if using), and garlic. Set aside.
Bring a cast iron-skillet to medium-high heat. Add the vegetable oil and then the lemon wedges, cut side down. Add the cauliflower steaks to the pain, with the cut sides flat on the pan. Cook for 5 minutes until golden brown, spread 1-2 Tablespoons of the sauce on the top of each steak, then flip and cook another 5 minutes. Evenly spread one more tablespoon on top of each steak, then place in the oven and roast for about 7-10 minutes until tender.
To serve, sprinkle with green onions or chives and squeeze seared lemon juice over the top.
Notes
*You may only get 2-3 good steaks from each head of cauliflower. The key is keeping the core attached. Use any stray florets for another recipe like cauliflower rice or roasted cauliflower.