Maurice Wallace's Southern Blackened Catfish with Sweet Potato Puree and Roasted Beets & Brussels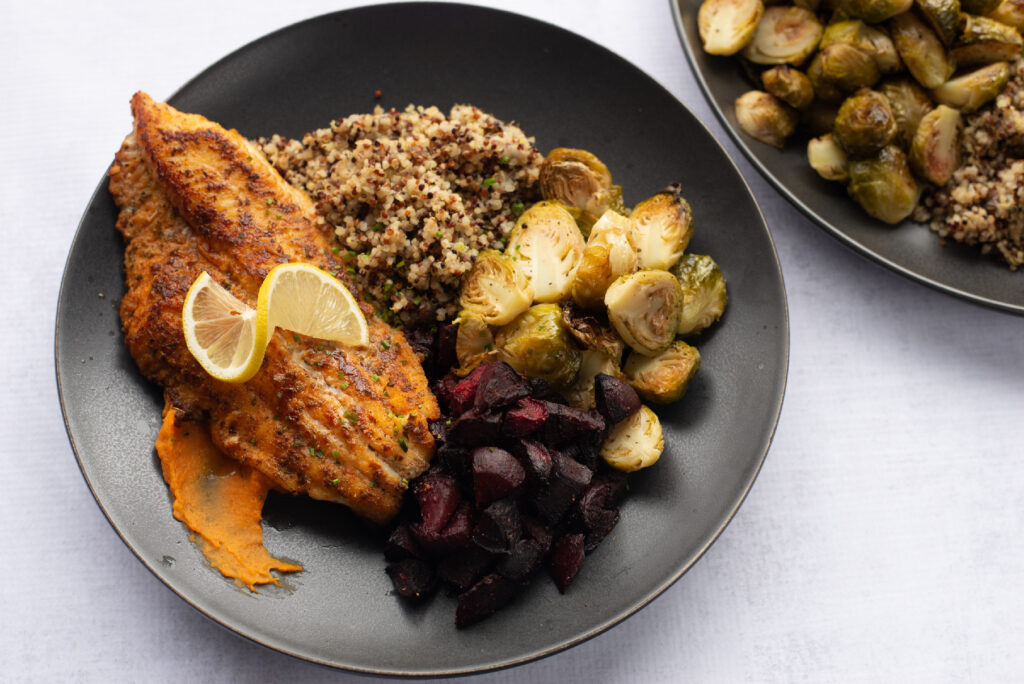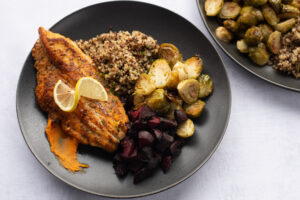 Print
Maurice Wallace's Blackened Catfish with Quinoa, Sweet Potato Puree, and Roasted Beets & Brussels
Yield 4-6 Servings
Build a satisfying, health-conscious meal by taking a southern classic entree and pairing it with delicious, nutritious side dishes. It's perfect fall comfort food!
Ingredients
4-6 catfish fillets (4-6 oz each), rinsed and patted  dry

Salmon can be used as well
Blackening Seasoning
4 tablespoons smoked paprika
2 tablespoons cayenne pepper 
2 tablespoons onion powder
2 teaspoons garlic powder
2 teaspoons black pepper
2 teaspoon salt
1 teaspoon dried basil
1 teaspoon dried oregano
1 teaspoon dried thyme
1 tsp red chili flakes (for spicier flavor)
Sweet Potato Puree
2 medium sweet potatoes
6 tablespoons unsalted butter
1 teaspoon each salt & pepper (to taste
Quinoa
2 cups quinoa
3/4 medium yellow onion, diced
2-3 cardamom pods, cracked open
1-2 pods star anise
1 bayleaf
2-3 chive sprigs
Roasted Beets & Brussels
4-5 purple beets cut into 1/2 squares
3-4 lbs Brussels sprouts, outer leaves removed and cut in half
1-2 tablespoons olive oil
Salt & pepper
Instructions
In a large mixing bowl toss catfish fillets with 2-3 tablespoons of the blackening seasoning and 1/3 cup of olive oil. Cover and refrigerate for 2-3 hours.
Roasted Beets & Brussels
Preheat oven to 400°. Toss the beets with 1/2 tablespoon olive oil, 1/2 teaspoon salt, and 1/2 teaspoon pepper. Spread evenly on a medium baking sheet. Do the same on another baking sheet with the sprouts. Roast for 30-40 minutes until fork tender.

You may roast these together, but the color from the beets will bleed into the Sprouts.

Keep warm in an oven set to 170°.
Sweet Potato Puree
Toss the sweet potatoes in 1 tablespoon of olive oil. Place on a baking sheet and roast alongside beets & Brussels. When fork tender, remove from oven and set aside.
Once cool, peel the sweet potatoes with your hands. Using a food processor or immersion blender, puree the sweet potatoes with the butter, salt, and pepper. 
Quinoa
While the beets are roasting heat a large frying pan over medium heat. Add quinoa and toast, stirring every minute, until it begins to give us a nutty aroma. Remove quinoa and set aside.
Add 1 tablespoon of olive oil to a medium pot and swirl to coat. Once the oil is shimmering, add the onion and slowly caramelize, 15-20 minutes. 
Once the onions have caramelized, add the toasted quinoa, cracked cardamom pods, star anise, and bayleaf. Allow to saute for a few minutes, then add 4 cups of water or stock. Raise heat and stir. 
Once the water reaches a boil, cover and reduce heat. Cook for 25-30 minutes until quinoa is cooked. Drain any remaining water and return to pot. Fluff with a fork then cover to keep warm.
Blackened Catfish
Heat 1 tablespoon of butter or 1/2 tablespoon of olive oil in a frying pan or non-stick skillet. The butter is ready when it begins to brown and foam. If using oil, wait until it begins to shimmer.
Add the seasoned catfish fillets to the hot pan and cook until a nice black crust begins to form, 2-3 minutes per side.
Serve the catfish atop the sweet potato puree, with 3/4 cup each of the quinoa, beets, and Brussels sprouts.
Notes
Maurice Wallace is a chef at Breaking Bread cafe, a social enterprise restaurant and catering business of local nonprofit Appetite for Change, and the founder of Wallace Cuisine. He serves up healthy takes on comfort food classics, like this recipe for mouth-watering catfish with hearty and nutritional sides.