Maurice Wallace's Grilled BBQ Chicken and Summer Corn Salad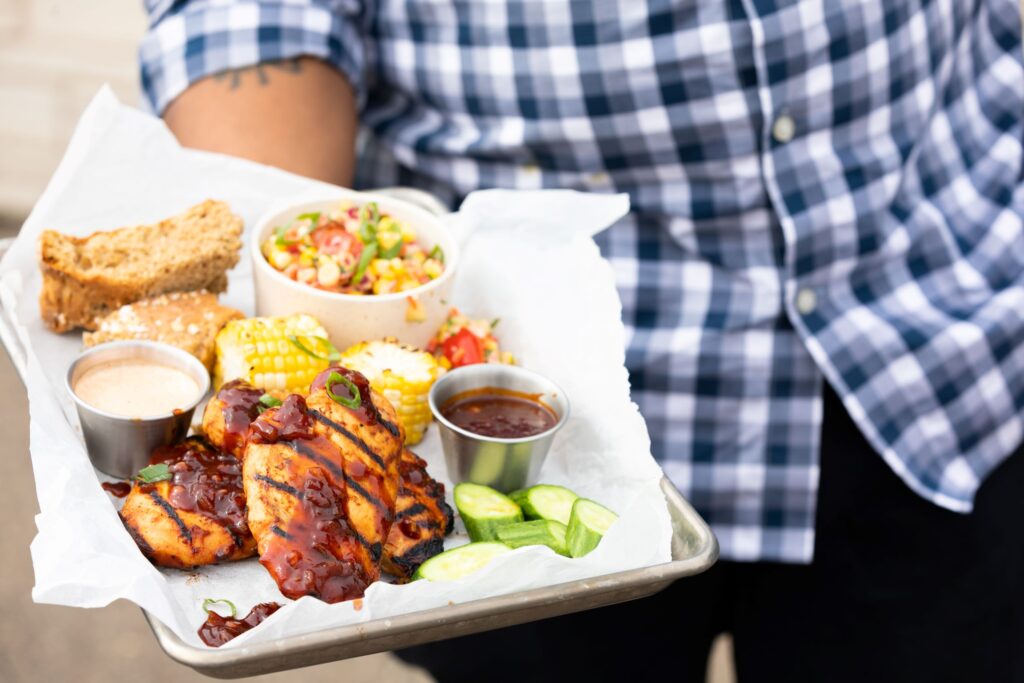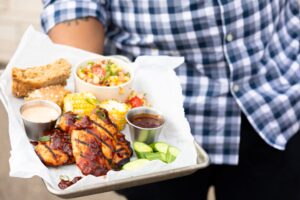 Print
Maurice Wallace's Grilled BBQ Chicken and Summer Corn Salad
This crowd-pleasing recipe comes from local chef Maurice Wallace of Northeast Minneapolis' Brasa Rotisserie. It's easy to scale up for however many friends and family show up for the BBQ.
Ingredients
BBQ Chicken
¼ cup ketchup
1 Tablespoon light brown sugar
1½ Tablespoon apple cider vinegar
1½ Tablespoon Worcestershire sauce
1 teaspoon ground cumin
1 teaspoon paprika
1 garlic clove, grated
Kosher salt and freshly ground black pepper
4 boneless skinless chicken breasts or 8 boneless skinless thighs (about 1½ pounds)
Honey BBQ Sauce
½ onion, minced
4 garlic cloves, minced
½ teaspoon ground black pepper
1 Tablespoon salt
¾ cup honey
2 cups ketchup
¼ cup tomato paste
⅓ cup cider vinegar
2 Tablespoons liquid smoke flavoring
¼ cup Worcestershire sauce
½ cup packed brown sugar
⅓ teaspoon hot pepper sauce, or to taste
Summer Corn Salad
4-5 ears of corn, husked and parboiled (see note)
½ red onion, finely diced
½ red bell pepper, finely diced
1 celery rib, sliced
2 scallions, thinly sliced
A handful of cherry tomatoes, halved
2 Tablespoon flat-leaf parsley, chopped
¼ teaspoon red pepper flakes, or to taste
Salt and pepper to taste
Summer Corn Dressing
3 Tablespoons mayonnaise (optional)
Juice from half lemon + zest
2 Tablespoons rice or apple cider vinegar
1 Tablespoon creole, stone ground, or Dijon mustard
1-2 Tablespoons hot sauce
1 teaspoon sweet or smoked paprika
1 clove of garlic, minced
Instructions
For the BBQ Chicken
Mix all ingredients together in a large bowl, then add chicken and marinate for 12 hours. Preheat grill to medium-high heat for 9-10 minutes. Pat chicken dry and cook, flipping halfway until internal temperature reaches 165°. If using a charcoal grill, the grill marks will appear quickly, so keep a close watch, and when both sides have grill marks move the chicken to the side of the grill to finish cooking all the way through.
For the Honey BBQ Sauce
Combine ingredients in a saucepan. Bring to a boil, then reduce heat and simmer for 30 minutes, stirring occasionally. Transfer to a blender (be careful of the steam) or use an immersion blender and blend until smooth.
For the Summer Corn Salad
Holding the corn by the stem, use a sharp chef's knife to carefully slice the kernels off the cob lengthwise, then add kernels and remaining ingredients to a mixing bowl and stir gently. Combine the dressing ingredients together in a bowl and whisk. Lightly toss the salad and dressing and serve.