Lentil Dal topped with Roasted Vegetables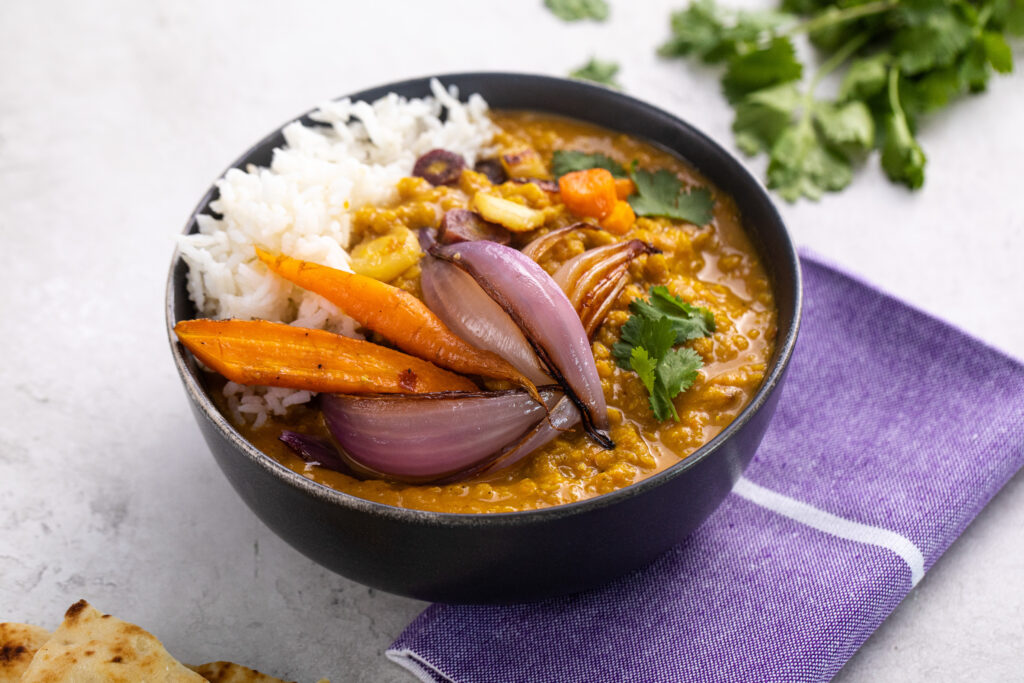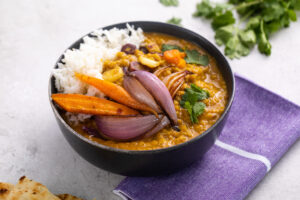 Print
Lentil Dal topped with Roasted Vegetables
Nothing beats a hot bowl of soup on a chilly night! In addition to packing a generous serving of veggies, the lentils in this dish will give your body all the protein it needs to feel full and energized.
Ingredients
For the roasted vegetables:
4 carrots, peeled and cut into 3- or 4-inch sections, quartered
1 red onion, cut into wedges
2 parsnips, peeled and cut into 3- or 4-inch sections, then cut into strips, optional
For the dal:
4 cloves garlic
2 Tablespoons fresh ginger
5 Tablespoons olive oil, divided
1-2 white onions (enough for 1 cup diced), diced
1 Tablespoon tomato paste
½ cup unsweetened coconut, shredded
¼ cup white rice flour
2 Tablespoons curry powder
1 Tablespoon ground cumin
¼ tsp ground cayenne pepper, optional
6 cups vegetable broth
1-2 carrots (enough for ½ cup), diced
1-2 celery stalks (enough for ½ cup), diced
1 yellow potato (enough for ½ cup), diced
1 cup dried red lentils
Salt and pepper to taste
Fresh cilantro garnish, optional                                                                 
Full-fat plain Greek yogurt, optional
Cooked rice or naan, for serving
Serve over cooked rice or with naan bread
Instructions
Preheat oven to 400°. Add carrots, red onion, and parsnips to a bowl, toss with 2 Tablespoons olive oil, and season with salt and pepper. Pour onto a rimmed baking sheet and roast for about 30 minutes until tender and a bit charred.
Meanwhile, mince the garlic and ginger or use a garlic press or microplane. Heat the remaining olive oil in a heavy bottomed pot over medium heat until shimmering, then add the garlic, ginger, and onion. Sauté until onions are translucent (do not brown) and the garlic and ginger are fragrant, about 5-8 minutes. Add the tomato paste, unsweetened coconut, rice flour, curry, cumin, and cayenne. Stir continuously until spices are fragrant and the tomato paste has been fully incorporated, about 3-5 minutes. Slowly add the broth, whisking to break up any lumps. Add the carrots, celery, and potato, then cover and increase the heat to medium-high. Cook until vegetables are soft, about 15-20 minutes. Puree with emersion blender or in batches with a standing blender. Add the lentils, cover, and cook over medium-high heat until lentils are soft, another 15-20 minutes.