Kernza® Pasta with Squash-Sage Sauce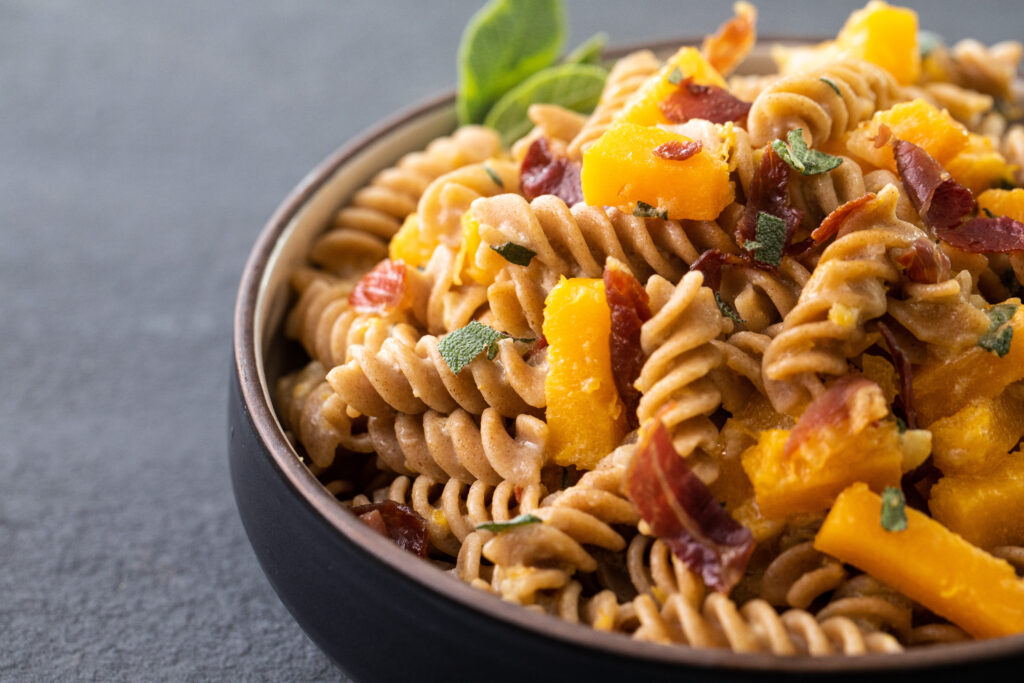 Print
Kernza® Pasta with Squash-Sage Sauce
One more way to enjoy Kernza® perennial grain: pasta! Creamy kabocha squash, Gruyere cheese, and crisped prosciutto make this main dish extra delectable.
Ingredients
4 Tablespoons olive oil, divided
5-6 slices prosciutto
1 small onion, diced
2 cloves garlic, minced
1 Tablespoon (about 8 large leaves) fresh sage, finely chopped
2 teaspoons Dijon mustard
Pinch of red pepper flakes
1 2-lb. kabocha or butternut squash (about 3 cups), seeded, peeled, and cut into 1-inch cubes
1 cup chicken stock
1 cup half-and-half
4 oz. Gruyere cheese, grated, plus more for serving
14 oz. Patagonia Provisions Kernza fusilli, (reserve 1 cup pasta cooking water)
Kosher salt and freshly cracked black pepper to taste
Parmesan cheese, grated, if desired
Instructions
Heat 1 Tablespoon oil in a large 14-inch skillet over medium-high heat. Add prosciutto slices and cook, flipping occasionally, until crisp. Set aside on a plate.
Add another 3 Tablespoons olive oil to the same skillet, then the onion and a good pinch of salt and pepper and sauté for 5 minutes, stirring occasionally. Add garlic, sage, mustard, and pepper flakes, and cook another 30 seconds. Add the squash and chicken stock. Bring to a simmer and cook until squash is soft and liquid is reduced by half, 15-20 minutes. Mash with a fork or potato masher, then season with salt and pepper. Turn off the heat, add the half-and-half, and slowly add the cheese, stirring as you add. Reserve in the skillet.
Cook pasta in a large pot of boiling salted water, stirring occasionally, 3 minutes less than package directions. Drain, reserving 1 cup pasta cooking liquid.
Combine pasta, squash mixture, and ½ cup of the reserved cooking water in the skillet and cook over medium heat, tossing and adding more of the water as needed, until well combined. Season with salt and pepper if needed.
Serve pasta topped with chopped prosciutto, extra grated Gruyere or Parmesan cheese, and more pepper to taste.