Japanese-Style Grilled Pizza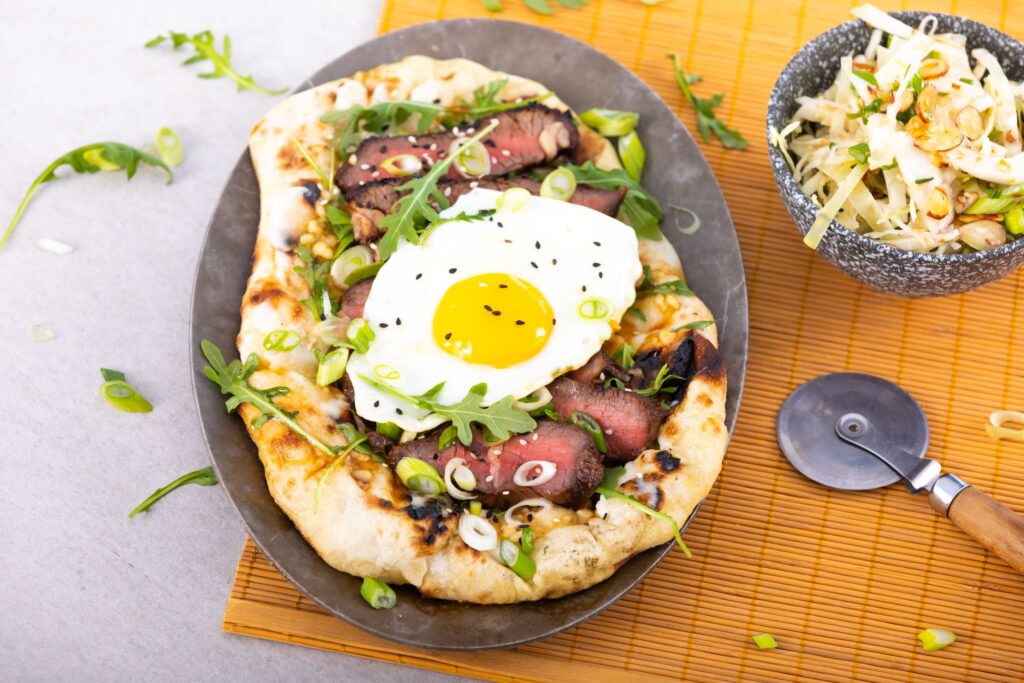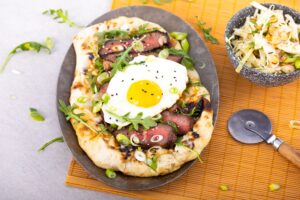 Print
Japanese-Style Grilled Pizza
The joy of grilling pizza is twofold: The open flames create a delightfully crispy crust, while you get to enjoy some fresh air! This pie is inspired by Japanese BBQ, with umami-rich flavors like tomato, soy sauce, and mirin blended with snappy ginger, crunchy green onions, and toasty sesame seeds.
Ingredients
1 container Lakewinds deli pizza dough
Flour to sprinkle on counter or cutting board
1 Tablespoon olive oil
¾ lb. top sirloin steak
¼ cup + 2 Tablespoons Bachan's Japanese BBQ Sauce, divided
2 Tablespoons mayonaise
2 Tablespoons GRLK sauce
½ tub arugula (about 2 oz.)
4 eggs, fried (optional)
¼ teaspoon each black and white sesame seeds, lightly toasted
2 green onions, thinly sliced
Instructions
Marinate the sirloin in ¼ cup barbeque sauce for about an hour at room temperature. Remove the dough from refrigerator and bring to room temperature. Preheat the grill to high.
Roll or stretch the dough into two 10-11" circles, dusting with the flour if sticky. If the dough springs back when rolling it, cover and let rest for 5-10 minutes, then roll again. Lightly brush the dough with olive oil. Scoop one circle of dough on a pizza peel or flat cookie sheet and head to the grill.
Quickly flip the dough onto the grill, one at a time, oiled side on the grate. Close the grill and cook until the dough is lightly browned and bubbling, about 1-2 minutes. Use tongs to flip and cook another 1-2 minutes. Set aside and repeat with other dough portion.
Dry the sirloin with paper towels then grill for 11-14 minutes, flipping halfway. Let meat rest for 20 minutes and then slice thin against the grain.
Combine mayonnaise and 2 Tablespoons barbeque sauce.
To assemble, spread 1 Tablespoon GRLK sauce over each crust. Top with arugula and layer on the sirloin. Drizzle the mayo mixture over the top and add two fried eggs, if desired. Sprinkle with sesame seeds and green onions and serve.