Jalapeño Black Bean Veggie Burgers with Avocado Crema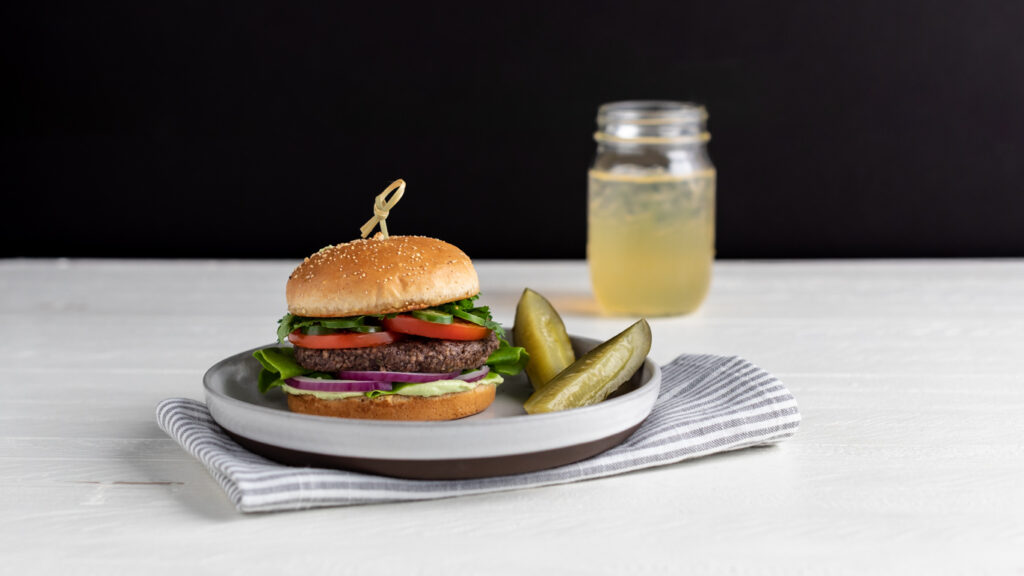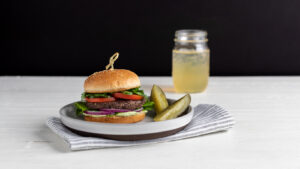 Print
Jalapeño Black Bean Veggie Burgers with Avocado Crema
Yield 6 servings
A burger with a kick! These hearty black bean burgers are topped with an avocado crema and lots of fresh flavor for a delicious and filling meal!
Ingredients
Jalapeño Black Bean Veggie Burgers
1 can (15 ounces) black beans, undrained
1 fresh jalapeño, stemmed, seeded and finely chopped
1½ cup unseasoned dry bread crumbs
1 tsp chili powder
1 clove garlic, finely chopped
½ tsp salt
1 egg, beaten
2 Tbsp vegetable oil
6 burger buns, split, toasted
Avocado Crema
2 ripe avocados, halved, pitted and peeled
½ cup sour cream
¼ cup crumbled queso fresco
¼ cup freshly squeezed lime juice
½ tsp salt
Optional Toppings
chopped butterhead lettuce
chopped fresh cilantro
fresh jalapeño slices
sliced tomato 
thinly sliced red onion
Instructions
In a food processor or blender, place beans. Cover and process on high speed until slightly mashed.
Remove beans from the food processor to medium bowl. Stir in jalapeño, bread crumbs, garlic, chili powder, salt, and egg. 
Shape mixture into 6 patties, about ½ inch thick.
In 10-inch skillet, heat oil over medium heat. Working in batches, cook 3 patties at a time in oil 5 to 10 minutes, turning once, until crisp and thoroughly cooked on both sides. Repeat with remaining patties.
Alternatively, heat grill to medium-high heat. Grill patties 3-4 minutes per side. Avoid turning them multiple times as they may break apart.
Meanwhile, in a food processor or blender, combine the avocado, crema, lime juice, and salt in a blender or food processor and puree until smooth.
Spread bun bottoms with avocado crema. Top with lettuce, black bean patties, tomato and, jalapeño slices. Cover with bun tops.
Notes
Tips
Make it Gluten Free! Use gluten-free bread crumbs and gluten-free buns for a gluten-free version. 
Make it vegan! Use a flax-egg or egg replacer for the egg in the black bean burger to help hold it together. Use a plain full fat non-dairy yogurt or vegan sour cream and leave out the queso fresco for the avocado crema.